Eating your way to a slimmer middle is always a great idea—especially if it's a slow cooker recipe! If you're looking for a cozy, easy-peasy soup to ward off the cold and flush away belly fat, you're in luck. Check out these delicious one-pot soups that will help you get a smaller stomach.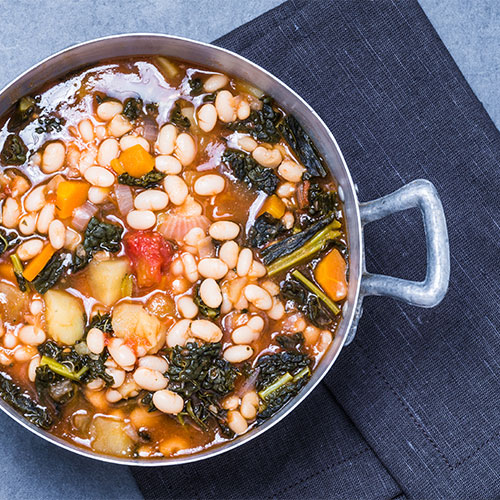 Flush The Fat Away Vegetable Soup
Whether you need a soup to kick-start a new weight-loss plan or something to get your body back into order after a weekend of indulgence, this soup will set you straight. It's packed with antioxidants, fiber, vitamins, and minerals that work together to flush toxins out of your body, and it's easy to make.
You'll Need:
Sweet potato
Carrots
Celery
Onion
Garlic
Sea salt
Black pepper
Allspice
Paprika
Bay leaf
Navy beans
Vegetable broth
Diced tomatoes
Baby spinach
Extra-virgin olive oil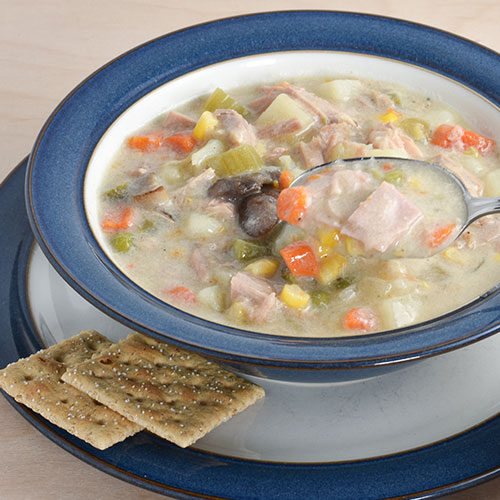 Chicken pot pie is the ultimate comfort food but it's not too kind on the waist. If you are craving one, try this healthy soup version instead. It features all the classic pot pie flavors minus the heavy fats. This stew is creamy, luscious, delicious and super easy to make in your slow cooker.
You'll Need:
Chicken breasts, boneless and skinless
Yellow onion
Stalks celery,
Carrots
Garlic, minced
Kosher salt
Black pepper
Fried thyme
Dried oregano
Chicken broth
Bay leaf
Frozen corn kernels
Frozen pearl onions
Peas
Greek yogurt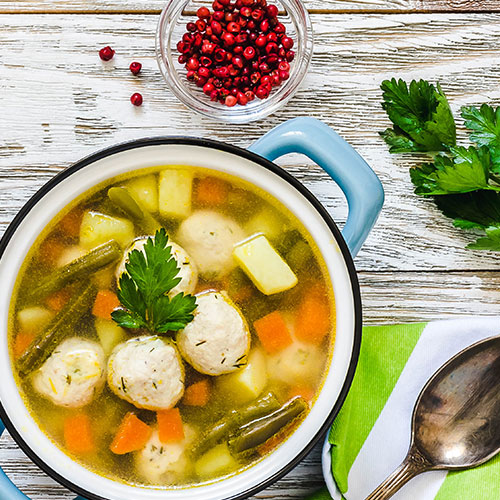 This soup is a healthy remake of the classic Italian Wedding Soup. Featuring turkey meatballs, kale, carrots and tons of flavor, you won't even notice that this soup is "light." If you are not a fan of kale, it's ok to sub it out with escarole, swiss or rainbow chard or spinach.
You'll Need
Milk
Bread
Lean ground turkey
Shallot
Garlic
Nutmeg
Oregano
Red pepper flakes
Kosher salt
Ground pepper
Parmigiano-Reggiano
Italian parsley
Egg
Olive oil
Chicken or vegetable broth
White Northern beans
Carrots
Onion
Kale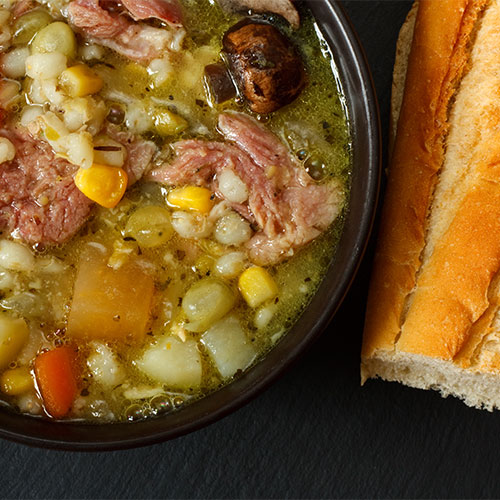 Split pea and ham soup is another classic comfort food that's traditional chock full of fat and calories. This version omits the potatoes and packs it full of flavorful veggies and seasonings. Make a double batch—this recipe freezes well. It will be perfect for dinner on a busy weekday.
You'll Need:
Carrots
Celery
Onion
Split peas
Ham
Chicken or vegetable broth
Water
Mrs. Dash seasoning
Parsley, chopped
Smoked paprika