If you rely on a hot drink to either caffeinate or relax you first thing in the morning, there is an easy  ingredient you can add to look your best. Specifically, adding some protein to your morning ritual could be the key to achieving sustainable weight loss. In particular, Vital Proteins offers an array of options that are easy to incorporate into your diet–making them a favorite among celebrities like Kourtney Kardashian, Jennifer Aniston, and Erin Foster.
Read on for the one ingredient you should be adding to your morning hot drink!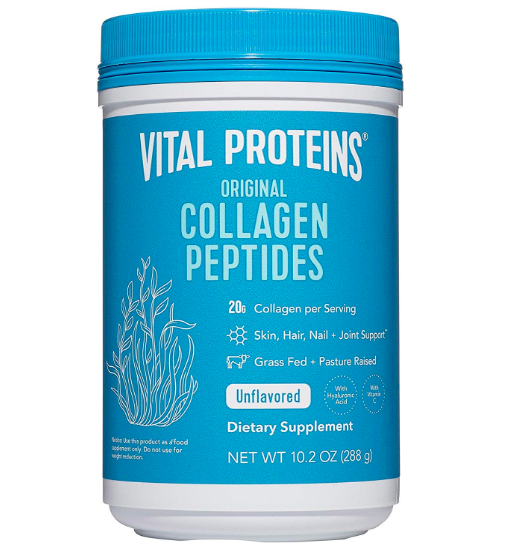 Shutterstock
Because protein helps promote a feeling of fullness, adding an extra dose of it to your morning routine is a great way to control your cravings and stick to a healthier diet.
According to Healthline, "Eating a high-protein diet can cause weight loss, even without calorie counting, portion control or carb restriction. A modest increase in protein intake can also help prevent weight regain."
Shutterstock
Plus, these collagen peptides can help promote hair, skin, nails, ligaments, tendons, bones, and joints.
With that in mind, not only will this product help you stick to your diet, but it can also help your skin and hair look better.
Shutterstock
Promising Reviews
"Fantastic protein powder. Dissolves instantly in warm or hot beverages without altering the texture. I put two scoops in my coffee first thing in the morning along with a tablespoon of coconut oil for an instant breakfast before my morning yoga class. I love knowing that it's helping me recover from a recent bike accident through both connective tissue restoration and aiding in sleep. Its also improving the firmness of my skin and I get compliments on my long and strong nails all the time! A container of this lasts about a month for me which averages out to about $2 a servings. Better than taking a collagen pill that doesn't have the protein content to keep you full til lunch." -Amazon Reviewer
"Love this product, and remainder of Vital Proteins products. Definitely recommend using this product twice a day for a month to see positive improvements in skin hair and nails, as this was my purpose for purchase. Can not taste or smell product in coffee, and it dissolved very well." -Amazon Reviewer
"This is the weirdest thing since I started using this powder and it's only been a week. My skin feels amazing. . On the days I use it I see the effect within hours. I didn't think it was this product at first so I tried to skip it just to test it out and my skin feels back to its dull self." -Amazon Reviewer
SheFinds receives commissions for purchases made through the links in this post.