Everyone knows that foundation is a beauty essential. It helps you achieve an even complexion by covering any impurities, and, depending on your skin type, it can help correct dryness, hide redness and even smooth out any fine lines and wrinkles. But, that's only if you've chosen a good foundation and you've prepped your skin with moisturizer and primer.
"Wearing a perfect foundation that provides the best complexion is important, but making sure your skin is well prepped beforehand is even more so. My favorite primers are the oil-free variants; they are super-soft and melt into the skin really beautifully," makeup artist and beauty guru Pat McGrath tells Vanity Fair.
So, how do you know if you've chosen a good foundation? There are so many brands and formulas nowadays that it may seem like a bit of a gamble to find the perfect foundation. That's why it's important to take a look at the reviews! Here are some of the highest-reviewed drugstore foundations available: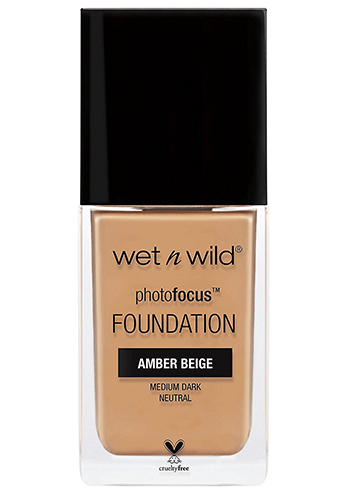 Wet n Wild Photo Focus Foundation ($4.79)
This formula features light-adjusting complex to help prevent white cast in photos--yup, you read that right. This foundation was literally made for perfect selfies! Each shade is color matched for all undertones with a lightweight, matte finish that helps to perfect the appearance of the skin.
"I can't say enough good about this foundation. Okay of course it doesn't have the same ingredients (I'm assuming here) as all the things you pay for in high end foundation but it outperforms MANY of my $40+ foundations. To me it is only second to my Smashbox and that's saying a lot. It doesn't oxidize, has a beautiful finish and lasted over 12 hours for me. Didn't change a bit. My skin is ridiculously oily and I didn't have to blot once! Extra points for being a perfect shade match. This one far exceeded my expectations in every way. I have tried every drugstore foundation there is and some have been pretty good. In my option this one is great! I'm so glad I tried it." - Amazon Customer
"This is my new favorite foundation. It goes on with an odd "dry" feeling, but it isn't drying. It's hard to describe. It takes a bit to get used to but I really love this foundation. It stays on all day, is a great match to my skin, and when blended with a damp sponge it just looks flawless on the skin. I love how my skin looks with this foundation! I'll definitely be purchasing more of this foundation." - JaNaeSyx
"This gave me a great medium/light coverage! My skin looks flawless! Blendable and buildable!!!! I set it with a few different powders and sprays and it's still semi-matte!!!! Really impressive for wet n wild! I ordered this shade fromAmazon as they were out of it at my drugstore! It's only $5 at the stores!" - Jes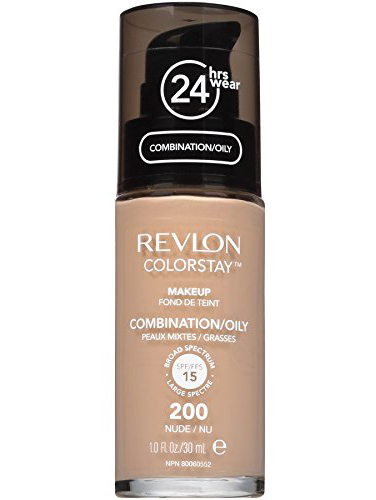 Revlon ColorStay Liquid Makeup ($12.99)
This foundation is designed with combination and oily skin in mind and targets oil absorption and shine with its long-lasting coverage and matte formula. It also contains salicylic acid and SPF 15 to help provide a poreless finish and protection from the sun.
"This is the best foundation. I have used this foundation since I found it. When I saw it on Amazon at a good price I ordered it from here. My mother even asked what foundation I used as she said it looks so great. It does not clog pores and goes on smoothly. It does not feel thick and stays on all day. It is in between heavy coverage and light coverage and still covers my splotchy complexion. I would recommend this to any age group. I am 58 years old. I hope this helps." - RioRio
"My skin type: combination/oily with very oily T zone. Mild acne, some acne scars. Need medium coverage & long wear. Amazing product. Provides full coverage with minimal product. Goes on creamy, not at all powdery. Needs 3 minutes to 'set.' It really lasts a long time. I've worn it 16 hours without touch-up. It doesn't oxidize & it doesn't crease or settle in my pores. It's very natural. I've had countless complements on my skin & people didn't know I was wearing make-up! Love it! I wear make-up most days of the week but the bottle lasts for months!" - M.M.
"This is my go-to foundation. It will stay on literally ALL day. It's very matte! And very FULL coverage & can double up for a concealer so kiss your concealer goodbye as well. If you're oily like me, this will become your holy grail." - cottoncandyblizzard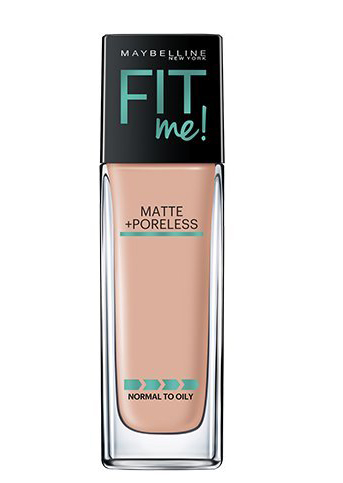 Maybelline Fit Me Matte Poreless Liquid Foundation ($5.94)
This dermatologist and allergy tested foundation features micro-powders that control shine and blur pores to reveal a flawless, even complexion. It offers medium coverage for a natural finish with its lightweight, matte finish.
"I have used this product for about three years now and wouldn't ever change. I am 65 and it doesn't settle in wrinkles and it has great coverage... not too heavy and not too light. Including a pic to show results." - Pam Hankins
"I love Maybelline Fit Me Matte. Having combination skin, it can be hard to find a foundation that isn't cakey or doesn't dry me out. This is my PERFECT foundation!! It has a smoothing effect and looks absolutely flawless! Love it!" - Sara Briggs
"I'm obsessed with this foundation. So, I'm early 30s, very oily t-zone by midday. My foundation would literally run down my face. I tried so many. This stays matte, which makes it a great base for shimmer highlighting. It covers really well" - Sally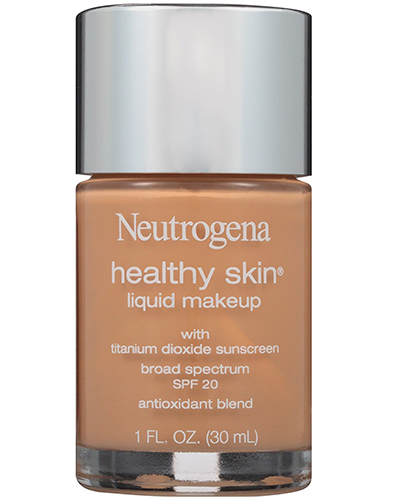 Neutrogena Healthy Skin Liquid Foundation ($10.49)
This drugstore-favorite brand helps provide flawless, natural coverage with its Healthy Skin Foundation. It's lightweight and visibly improve skin's luminosity, tone, and texture. And, it's formulated with broad spectrum SPF 20 to keep skin protected from harmful UV rays.
"I love this foundation. Really good for my sensitive skin that gets irritated from almost anything. I've been using this for over 2 years now." - Yuki J.
"You don't need so much to spread and even through sweat; it does not run!!! It actually looks so natural on me and I received many compliments about my makeup with the help of this product. I will be ordering again." - Trina Garland.
"I've been wearing this wonderful, oil-free makeup that includes a nonchemical sunscreen for about twenty years. I think it's the best drugstore brand makeup base you can buy." - Nancy Robertson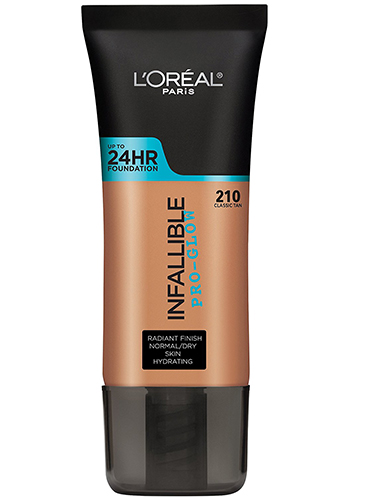 L'Oréal Paris Infallible Pro-Glow Foundation ($9.74)
Looking to enhance your skin's natural glow? Then, you need L'Oreal Paris' Infallible Pro-Glow Foundation in your life ASAP. It offers medium coverage, lasts for 24 hours and reveals a healthy, radiant complexion.
"I am 42 with extremely dry, dehydrated skin. I have tried maybe 100 different foundations, BB creams, CC creams and tinted moisturizers in an attempt to find a foundation that doesn't look like I'm wearing a mask. Almost every single foundation looks cakey, no matter what I put underneath or how I apply it. This is one of the only foundations on the market that looks good on my skin. It is similar to U. D.Naked Skin as far as the consistency. It is a thin, slightly watery consistency, which works best for me. It is also very similar to Bourjois Healthy Mix Serum, which I also am completely in love with." - Shelby Hall
"I just tried this on tonight for the first time and I'm obsessed! I even got a shade or two darker than I am and it still blended wonderfully! I will def buy again! Now I know what all the hype is about!" - Kelsey
"This foundation is absolutely beautiful. It is light to medium coverage. It gives a beautiful dewy finish, "your skin but better" look. I've worn this for 8 or hours and it doesn't move, break down or oxidize. It still looks beautiful, not too oily after a full day. It's not sticky or tacky either. I really don't feel this foundation on my skin, very comfortable to wear. I like the packaging as well. I apply directly on a sponge. If a company can't provide a pump, then squeeze tube is my next favorite. It doesn't waste the product and keeps it hygienic. I will definitely travel with this because it's so portable and won't leak or break." - Wee Betta Fish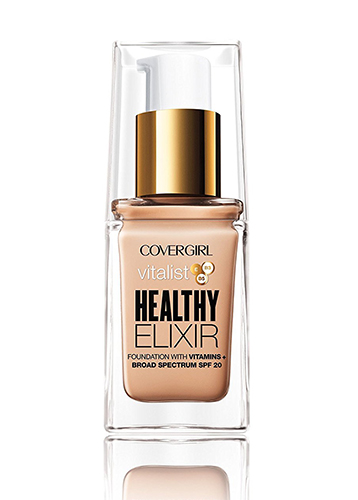 COVERGIRL Vitalist Healthy Elixir Foundation ($9.74)
This vitamin-infused foundation features a blend of antioxidants and vitamins E, B3 and B5 to help reveal healthier skin from the inside out. It offers full-coverage and SPF 20, and it's even good for those with sensitive skin!
"I have tried probably 70+ foundations and this is definitely one of my favorites. It did darken a bit on me. My skin is a little oily and gets worse throughout the day and I have large pores, and this looked great. I always use a primer underneath." - Jennifer Ashley
"I absolutely love this foundation as it moisturizes, is semi-sheer yet covers well, gives you a dewy glow, and wears well for 10+ hours. Plus sunscreen - an absolute must! I appreciate the pump dispenser and the just-right viscosity of the foundation itself." - ELK
"It is a very lightweight foundation, doesn't feel cakey and it smells good. If you apply it with a brush it gives complete coverage and if you want a more natural look you can apply it with a sponge. Didn't break out my skin or cause any type of itchiness" - Amazon Customer
SheFinds receives commissions for purchases made through the links in this post.