If your ponytail is feeling a little lighter these days, chances are you could be dealing with one of the most irritating of all the dreaded haircare woes: thinning. And while there are plenty of factors that go into the shedding of a few more hairs than usual, like aging, diet, and stress, it turns out there are simple ways to revive your hair's health and turn back the clock.
READ MORE: This $6 Hair Vitamin Has A 5-Star Rating At Target Because It Makes Your Hair Thicker & Fuller
Aside from genetic factors, another issue that may be the cause of your hair loss is chronic dandruff. And while everyone shys away from talking about dandruff, it's totally normal and happens to us all at some point or another! Healthy and strong hair starts at the scalp, so of course, it's crucial in keeping your hair looking youthful and full.
If you're dealing with thinning or flakiness, you'll want to opt for a specially formulated anti-dandruff shampoo to put the life back into your scalp with each cleanse. And luckily, you can snag one without breaking the bank. This high-rated Derma Care Scalp Anti-Dandruff Shampoo by Dove boasts rave reviews and gets the job done for under $5.
The shampoo's active ingredient of Pyrithione Zinc couples with hydrating coconut to revive even the itchiest most irritated of scalps, while moisturizing and restoring hair to its commercial-worthy fullness!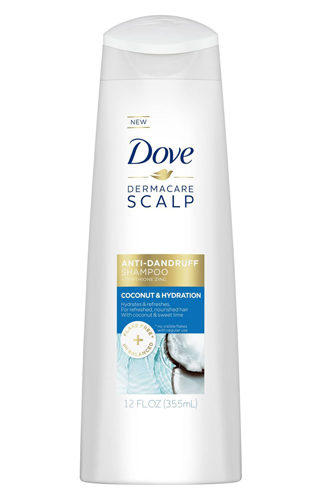 Dove Dermacare Scalp Anti Dandruff Shampoo ($4.99)
Key Benefits:
- Leaves hair feeling nourished and refreshed from the scalp down
- The pH-balanced formulated created with powerful Pyrithione Zinch and hydrating coconut
- Refreshes dull strands with lime and coconut-scented suds
- Keeps flakes, dandruff, and irritation away so hair can stay healthy and strong
Shutterstock
Promising Reviews For Dove's Dermacare Scalp Anti Dandruff Shampoo:
"I have battled with dandruff for years( and I mean years)! I just recently purchased the dove anti-dandruff with coconut and I am IN LOVE with my hair! I no longer struggle with dandruff, my hair smells amazing and it's always super soft, even after coming out of being in a bun all day! Thank you Dove!!!" - Cpfinx
"Seems to work really well. My hair is way more manageable" - Smilinangels
"Took my dry stress patches away after 4 years of trying everything" - Corvette
SheFinds receives commissions for purchases made through the links in this post.