Finding a few more strands in your hairbrush than usual can be quite a scary feeling, but luckily there's plenty you can do to revive your hair's health and wellbeing. While thinning hair may be caused by a variety of factors such as diet, age, and stress, there's an easy way to combat the effects of thinning and keep hair healthy, strong, and thick.
By incorporating a Biotin supplement into your daily routine, you'll be on the fast track to taking your hair care up a notch. Even better yet, is one combined with hair-healthy Keratin, like this impressively rated $6 option at everyone's favorite budget-friendly beauty destination, also known as Target. Finding a hair growth supplement in a sea of options can prove daunting, especially when looking for an affordable option, which is why the Biotin Plus Keratin Caplets are such a fan-favorite.
TRY IT: Up & Up Biotin Plus Keratin Caplets ($5.99)
Key Benefits:
-Enriched with 10,000mcg of biotin and 100mg of keratin per capsule to revive hair growth and shine.
- Overall hair, skin, and nail health will improve and be rejuvenated.
- Take one vitamin supplement per day to see hair restored to its shiny, healthy strength.
- Allergen-free formula.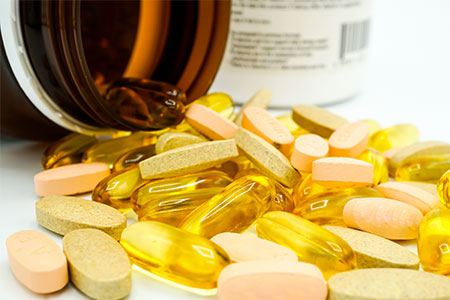 Shutterstock
As one of the highest-rated Biotin supplements, this powerful combination of 10,000mcg of biotin and 100mg of keratin per capsule helps hair, skin, and nails grow healthier and stronger. Rather than spending money on pricey products, this budget-friendly option will have you covered for 60 days thanks to its one-a-day power-packed blend, which means both your hair and your wallet will thank you!
Biotin is a part of the vitamin B family, which helps the body convert nutrients into energy. It's crucial in maintaining the health of skin, hair, and nails, which means a deficit of the vitamin can cause strands to be lackluster. Keratin, on the other hand, is the protein naturally found in hair. Loss of keratin contributes to dry and damaged hair, which can cause thinning and hair loss. By combining these two essential nutrients in one supplement, you'll get a power-packed formula guaranteed to speed up your hair's growth while making it healthier than ever.
Shutterstock
Promising Reviews for Biotin Plus Keratin Caplets:
"I was losing more hair than usual and my nails were breaking. My hair stylist suggested Biotin. Towards the end of my first 60 day supply I noticed less hair loss, new hair growing in and strong nails! Even my hair stylist noticed all my new hair. I'm now on my second bottle. These really work! I take them after dinner so they don't bother my stomach at all." - Laurie
"Just received my second bottle. I took the vitamins every day for 60 days and my hair and nails literally will not stop growing! It's been a year since I originally started taking them and my hair has never been so soft and long. Just ordered my second bottle!! I recommend this product to all my friends who are having hair problems!!" - Ky
"I was having problems with my hair breaking near the crown. The section was about an inch long (overall hair length was about 7-9 inches). The problem has been going on for over 2 years. That spot would NOT grow back. I braided my hair in individuals (I'm African American and natural) took the product for 60 days straight and my hair grew in that spot to about 4 inches. I was blown away. I've tried everything, oils, braids before, etc. I ran out of pills and took a drug store version without the Keratin and no breakage, but no real growth either. I've since repurchased them and have seen a little more improvement. The unexpected benefit is stronger fingernails. Hope this helps someone." - VegasGirl1
SheFinds receives commissions for purchases made through the links in this post.