When choosing your eye cream, it's important to know what's in it before you start using it. For board-certified, Los Angeles-based dermatologist Annie Chiu, crucial anti-aging eye cream ingredients include antioxidants, vitamin C, retinol, and caffeine to help protect the skin from UV damage, brighten dark circles, repair fine lines and wrinkles, and eliminate puffiness. Not getting these from your current eye cream? We recommend trying OleHenriksen's Banana Bright Eye Crème, which is one of Sephora's bestselling eye creams. It's always selling out and Sephora shoppers call it the best eye cream for dark circles and bags!
Best Eye Cream For Dark Circles And Bags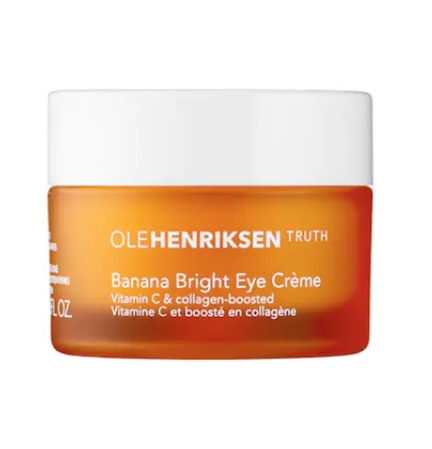 OleHenriksen Banana Bright Eye Crème ($38) 
This brightening, vitamin C-rich eye crème targets the common signs of aging by reducing the look of dark circles and wrinkles with its hydrating formula. The Banana Bright Eye Crème supports natural collagen while visibly firming the delicate eye area. It uses banana powder and other powerful ingredients to revive and illuminate the under-eyes to help them look rejuvenated and refreshed.
Not only does this formula firm the under-eyes, but it's hydrating enough to help improve your makeup application, too! Experts recommend using this crème as a primer to help prevent caking and creasing when applying your foundation and concealer. This will help you get flawless makeup application and make your skin look even younger!
Why Sephora Shoppers Are Calling This The Best Eye Cream For Dark Circles And Bags
Banana Bright Eye Créme Reviews:
"I cannot go a day without this product! The dramatic change I've seen in a short amount of time is incredible. This stuff seriously brightens my under eye area, de-puffs and moisturizes perfectly. It doesn't bother me during application and wears beautifully under makeup. I've been using this product for about three months now and I won't be looking for another." – aMaggie
"I'm 41, have a lot of fine lines under my eyes and under eye bags. Fast forward my fine lines have minimized (I'm shocked) and my under eye area looks renewed. Idk if that makes sense but I look refreshed when I use this. The formula is creamy and melts into your skin. I look forward to using this product and I'm looking at OH like y'all did that. If you are on the fence about purchasing, I'd say try it. For me it has exceeded my expectations." – barefootcontessa
"Okay so this eye creme is phenomenal! I was using a different brand for years then decided to switch to this and I'll never look back. It is extremely moisturizing and leaves the area around your eyes looking fresh and awake ( like you had 8 hrs rest). A little goes a long way and I use it once in the am and once in the pm." – sashhhha
How To Use The Best Eye Cream For Dark Circles And Bags
In order to see the best results from this product, and any eye cream for that matter, Chiu recommends using it every day. "Regular use of eye cream over time will keep the eyelid skin elastic and can improve or prevent against some fine lines or collagen loss. Remember: Nothing is magic. Results don't occur overnight," she says. Another tip is to use an eye cream with SPF protection to prevent any further premature aging or damage. This can also be done by applying regular sunscreen, too! Chiu also says that it's important to start using an eye cream sooner rather than later.
"Over time it's about maintaining the health and thickness of the eyelid skin," she continues. "Improving the skin quality in this area early on ensures that the eyelid skin does not easily lose laxity and its smooth appearance later on."
The Best Sephora Products That Are Like The Best Eye Cream For Dark Circles And Bags
Want to try even more bestselling eye creams? Keep scrolling to find our picks for the best dark circles and under-eye bag eye creams you can get at Sephora: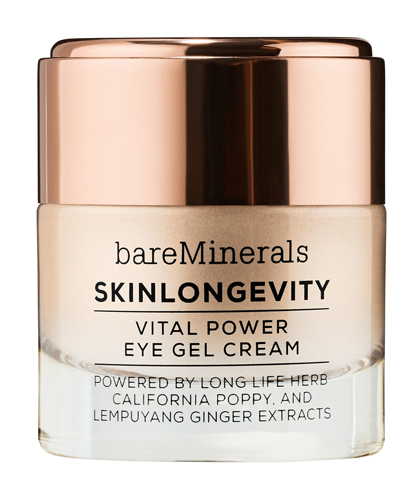 BAREMINERALS SKINLONGEVITY™ Vital Power Eye Gel Cream ($32)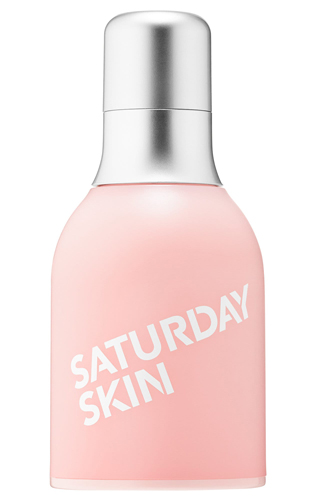 SATURDAY SKIN Wide Awake Brightening Eye Cream ($46)
DIOR Hydra Life Cooling Hydration Sorbet Eye Gel ($55)
CAUDALIE Resveratrol Lift Hyaluronic Acid Eye Lifting Balm ($62)