Need a new pair of jeans to live in this winter? Don't worry, we're in the same boat! Our editors have been on the hunt for the perfect pair of winter jeans that not only keep you warm but also keep you looking stylish, too.
We decided to look at what our fellow online shopping addicts and fashion girls had to say and scrolled through thousands of customer reviews to see which ones they've deemed worthy–and we found one! It looks like American Eagle's AE 360 NE(X)T LEVEL Super High-Waisted Jeggings are the only jeans that we'll need for winter.
The jeans are being met with hundreds of reviews by happy shoppers, each crediting the jeggings with being super comfortable and flattering. They're available in sizes 00-20 and are designed with the brand's four-way stretch shapes, which allows the pants to support and lift your booty for a perfect fit.
AE 360 NE(X)T LEVEL Super High-Waisted Jeggings ($37.46, originally $49.95)
Shutterstock
Promising Reviews:
"I'm 5'6, 135 lbs and a size 6 was great! At first I was skeptical as to why these jeans were so expensive and if the hype was true. Sis let me tell you my booty looks phat and it literally feels like you are wearing nothing, bend down and get up and you'll understand what I mean. They're amazing and I'm gonna try out all the other "dream" jeans!! <3" - CHLO
"So I ordered these jeans in my size 18L upon reading the reviews that said they were super stretchy and I'm glad I did! I'm tall; 5'10 and I'm curvy too.. these jeans were a DREAM for me. They fitted so well that they covered my stomach pooch and muffin top, camouflaging it. I was extremely happy cause none of AEs jeans have done that for me before and I got these jeans with a Free jean coupon so I was very pleased with my purchase, (even though I had to pay a penny online for the coupon) I was still satisfied. These jeans are definitely worth every penny if you buy them without the Free Jean coupon but my only complaint was that the waist was a little bit small and needed to be stretched out some but everything else stretches like the way it should. It's very stretchy so if you have BIG butt or thighs..like I have..GURL..go get you these jeans it's like daylight compared to AE's others jeans :) You won't regret it!" - MONET28
"While these do not fit me as jeggings, they do fit like skinny jeans. I have a bigger belly and smaller legs. I have such a hard time finding jeggings that fit my middle and are not huge through the legs. Oh man, these truly are a dream!" - DBBE
"These jeans are AMAZING! I wish I had the money to buy 10 more pairs. They are 100% worth the investment. Bought them to wear at work where I am bending and moving a lot." - Shelby11
Keep scrolling to shop more flattering and top-rated skinny jeans that will help you stay on-trend this winter:
WARP + WEFT JFK - Skinny Cobra ($98)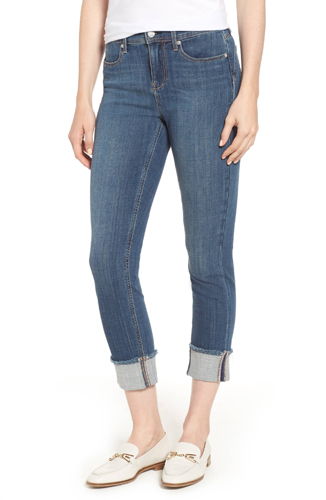 CURVES 360 BY NYDJ Boost Raw Cuff Skinny Jeans ($50.90)
Madewell 9" High-Rise Skinny Crop Jean ($135)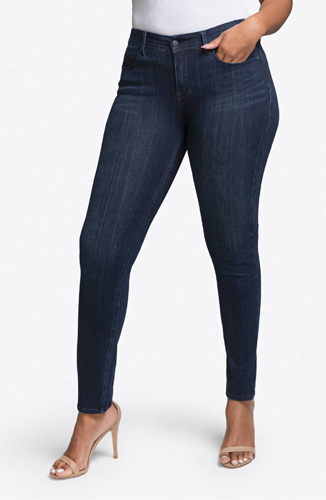 CURVES 360 BY NYDJ Skinny Jeans ($129)
SheFinds receives commissions for purchases made through the links in this post.