Covering a pimple successful is a very underrated feat–it's not easy! Most of the time, concealer just looks like a mask on top of what is still a very prevalent pimple. Even if you do manage to hide it while doing your makeup in the morning, you can guarantee it won't still be concealed by lunchtime. Well, it's not your concealer that's failing you–it's your technique.
If you have oily skin especially, it can be challenging to get makeup to stay put for long periods of time, no matter how good your setting spray is. But one beauty YouTuber shared an amazing hack with her followers on how to keep a pimple covered, for good.
Here's what her video said:
Nikkia Joy shared a few genius makeup hacks with her subscribers in a video titled "How To Stop Your Makeup Getting Oily & Shiny!" Nikkia explained that she has an extremely oily skin type and has worked out this makeup trick by experimenting on her own skin to figure out what works.
Shutterstock
The first thing Nikki recommends you do is to apply setting spray BEFORE you start your makeup. While traditionally applied when all of your makeup is complete, Nikkia recommends applying it before and after. Applying it at the start helps keep the oils in your skin from coming through the makeup.
Another step she does a little out of order: applying setting powder on your t-zone after your primer and before your foundation. This keeps it looking matte by soaking up any oils that soak through.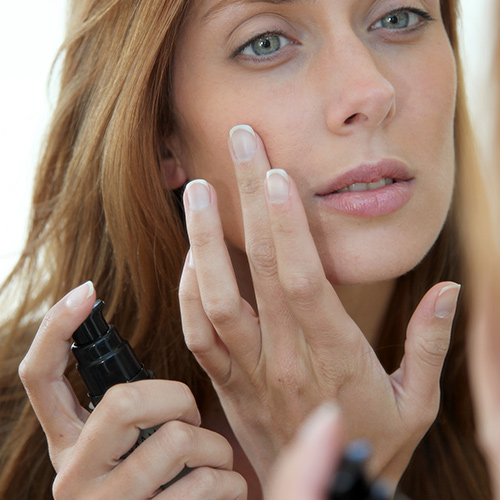 Shutterstock
Her next pro-tip is to apply your foundation to the outer edges of your face first, then work it into your oily t-zone with the leftover product from the makeup sponge or brush. Nikkia says that applying too much product will lead to more oil--and no one wants that!
Shutterstock
The next unique tip Nikki has is to apply more setting powder after your foundation with a damp makeup sponge. For unexplainable reasons, she claims applying the product wet will keep you from looking shiny longer.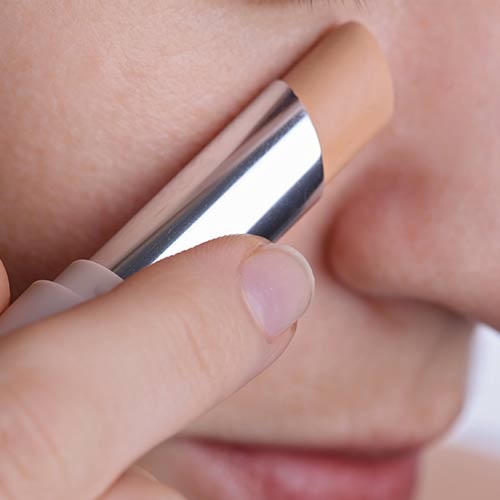 Shutterstock
And now the real kicker. To keep your concealer in place and your blemish hidden for good, Nikkia says to apply eyeshadow primer underneath your concealer. Say what? Giving that eyeshadow primer does such a great job at keeping your shadow in place all day, it makes sense that this trick would work for other creamy products like concealer, too!
We're so adding this into our daily makeup routine from now on!