What you eat for breakfast will help fuel your body and give you the energy to make it through your busy mornings, which is why it's always recommended to start the day with nutrient-rich foods that are high in protein and fiber to ensure you and your metabolism will be good to go.
Curious to know if your go-to breakfast is good for weight loss? Experts say it is if it doesn't contain this metabolism-crashing food–bagels.
Shutterstock
Bagels can't be that bad, can they? The popular breakfast food is a go-to for most because of their convenience, versatility, and yummy taste, but it turns out that bagels are actually one of the worst things you can have--especially in the morning!
"The calorie count in a bagel is astronomical," Stacy Goldberg of savorful tells SheFinds. One plain bagel can contain at least 245 calories and the numbers only go up once you experiment with different bagel varieties.
Shutterstock
Plus, most people have their bagels with unhealthy toppings like butter, cream cheese, and jam, which are pretty high in calories as well. They also pack on a lot of unwanted fat, sugar, and carbs, too! Don't even get us started on those egg, cheese, and bacon breakfast sandwiches...
Calories aside, Goldberg says that bagels really make a poor breakfast because they're high in refined carbohydrates, meaning that they possess no real nutritional value and can hinder weight loss.
"Eating a bagel actually makes you hungrier because there is nothing in it to fill you up," she explains, noting that having unhealthy carbs like bagels make your blood sugar spike and fall quickly, which then leads to your metabolism crashing, too.
Keep scrolling to find out what you should be eating instead to boost your metabolism and promote optimal calorie burning: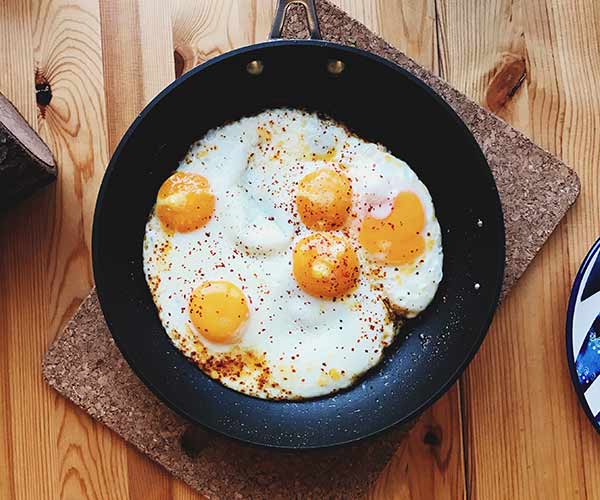 Shutterstock
1. Eggs
Eggs are known for being high in protein and loaded with vitamins, but it turns out that the yolk also contains, choline, a metabolism-boosting nutrient that can help with weight loss. "Choline has a part in many functions within the body including metabolism, nerve function, and brain development," Brooklyn-based registered dietitian Allison Knott, MS, RDN, CSSD, tells Eat This, Not That!
Shutterstock
2. Blueberries
Experts recommend reaching for a handful of blueberries when you're making your meals because of its high flavonoid content, which helps prevent weight gain and promote a healthy metabolism. "If this F word sounds foreign, don't fret - it simply refers to the bioactive component of fruits and vegetables which have the potential to influence weight," Rachel Swanson, an RDN at Lifespan Medicine, says.
Blueberries are also high in polyphenols, micronutrients that combat cellular stress by slowing down and blocking the inflammatory response in the body.
Shutterstock
3. Cottage Cheese
A serving of cottage cheese can make for a healthy and nutritious breakfast. We recommending adding blueberries, nuts, or seeds to it for a delicious start to your day.
In addition to being flavorful, cottage cheese is also very important for gut health and digestion and is a great source of casein, which keeps you full for longer periods of time. "Cheese can be a great source of calcium, protein, and surprisingly, a good source of vitamin A," say Dietitians Kelly Clifford and Meghan Daw at Fresh Thyme Farmer's Market.
Shutterstock
4. Quinoa
Many people know of quinoa as a superfood, but did you know that it can be used to make nutritious oatmeal? In fact, making quinoa oatmeal is better than opting for pre-flavored instant oatmeals because it's free of artificial additives and filled with protein, fiber, and other good weight loss-friendly nutrients and minerals.
"It's best to focus on fresh, minimally processed foods that have their carbohydrates encased in cellular compartments, which will not only have a lower carbohydrate density but will also likely be accompanied by lots of beneficial micronutrients," said Dr. Joseph Mercola.