Many women cite their work as a leading cause of stress in their lives. From high expectations, overflowing workloads, and tight deadlines, it can feel like you're barely keeping your head above water.
Keeping our minds sharp and clear from 9-5 is a lot easier said than done, and yet our productivity often depends on it.
So, what should you do if you're feeling extra stressed at work (and taking a nap or calling it quits for the day just isn't an option)?
Three super successful female health and wellness experts shared with us their secrets to managing stress in the workplace and staying on top of your game. Here's to starting Monday off strong!
Tips From Brittany Carbone, Certified Nutrition Coach and Personal Trainer, and Founder of TONIC:
1. Make Lists--"When everything is running around my head I feel super overwhelmed, but when I get them down on my giant whiteboard it is much easier to tackle each task and then being able to erase each item as I complete them--Best. Feeling. Ever."
2. Remember To Breathe--"Definitely remember to breathe, take a moment and regain some perspective. It's the hardest thing to do when you feel like you can't let one second go to waste and everything/everybody is depending on you, but when you take time to breathe in light, power & energy and exhale all the doubt and worry; when you take time to remember what's important; when you take time to remember you're a badass and all of this responsibility is actually an amazing honor then all of a sudden you realize you can handle anything that comes your way."
3. Stretch--"Stand up and stretch your arms up to the sky and breathe in your power every so often. Just sitting at your desk hunched over is enough to drain your energy and make you feel weaker than you are."
Tips From Andrea Barone Sazwan, Reiki Master, Chartered Herbalist, and Founder of Crystal Hills Organics:
1. Recite Positive Affirmations--"As a business owner, I find that each day is unique. To manage workplace stress, I usually reach for a couple of crystals and recite some positively framed questions or affirmations such as, "How could this project flow smoothly?" or, "Everything is flowing smoothly and easily for me.""
2. Practice Relaxation--"Try a variety of relaxation techniques to see what works for you. Don't worry if you find it difficult to feel relaxed immediately and don't give up. Relaxation is a skill that needs to be learned and practiced before it can be mastered. A tip that I find works for most people is to say positive affirmations while holding a crystal. Positive affirmations or positively framed questions allow you to attract positive possibilities. Affirmations that incorporate words such as love, peace and calmness are going to lead you in that direction."
3. Use Crystals--"My first recommendation to ease your stress is to keep a couple of crystals in your pocket (or bra). That way you don't even have to worry how you will handle an unruly situation, you are already prepared. Use crystals that are known to help people achieve a state of calmness. Incorporating aromatherapy is another key way to put you into a positive frame of mind so that you can handle anything that comes your way. Keep an aromatherapy roll-on nearby or put a couple of drops into a diffuser and take deep, meditative breaths."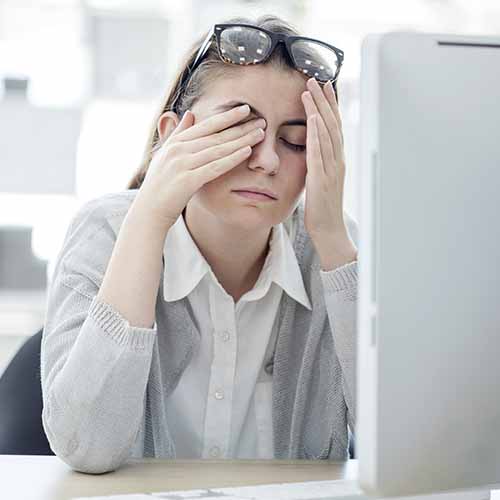 Tips From Jo Lu, Fragrance Innovator and Founder of ESYM:
1. Set Boundaries--"In this ever increasingly digital day and age, it's hard not to feel the expectation to be always on 24/7, so it's important to establish boundaries, set expectations, and take some time to recharge throughout the day. Instead of multitasking, I like to block time to focus on important tasks."
2. Control Your Breathing--"One of the quickest ways to de-stress and find calm is controlling breathing. Sama Vritti is an equal breathing technique that is one of the most basic forms of pranayama and can be done at anywhere and at anytime. The idea is to keep the inhalation the same length as the exhalation. Start with inhaling for a count of four, and then exhale for a count of four all through the nose, repeat 10 times."
3. Start The Day Right--"I like to get up a little earlier, have a nutritious breakfast and get off the subway a stop earlier to add in some walking time during the commute. After getting into the office, I typically spend 15 minutes to comb through task lists for the day. This allows me to clear my head, plan ahead, and stay focused for the day."