Aging can really take a toll on the skin. Your skin tends to feel drier as you get older due to the oil-producing glands becoming less active. It's also when things like fine lines, wrinkles, and dark spots start to appear more frequently.
This is when your moisturizer comes into play. It's important to keep your skin moisturized to promote hydration and overall skin health. Plus, not moisturizing can cause more wrinkles to develop! "When the skin barrier is compromised, which is what we see when it becomes dry, there's actually a low-grade chronic inflammation that occurs in the skin," dermatologist Dr. Whitney Bowe tells Good Housekeeping. "Low levels of ongoing inflammation ultimately lead to a breakdown of collagen and accelerated aging. Dehydrated skin shows all the lines."
Good to know! It's also vital to use a formula that's rich in antioxidants as they will help protect your skin from further environmental damage. Hyaluronic acid is another important ingredient, which Dr. Bowe says will help plump your skin.
If you're stuck on which anti-aging moisturizer is right for you, then we recommend this amazing drugstore formula that we found at Target. Olay Regenerist's Deep Hydration Regenerating Cream is one of the best anti-aging moisturizers available as it's super hydrating and targets the look of fine lines and wrinkles.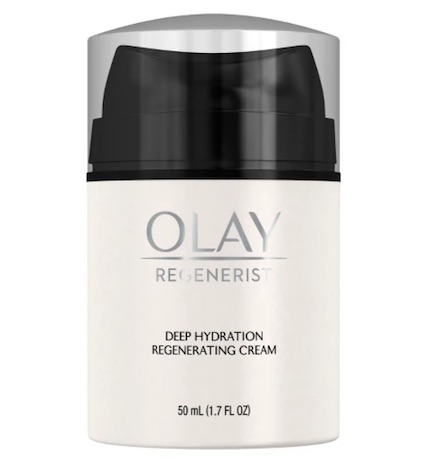 Olay Regenerist Deep Hydration Regenerating Cream ($17.99)
This moisturizer is formulated with the brand's Amino-Peptide Complex, which delivers moisturizing ingredients 10 layers deep into to the surface of the skin. Its exfoliating properties also aid in surface cell turnover and help regenerate surface skin cells. Expect soft, hydrated skin and fine lines and wrinkles to be noticeably smoother.
What people are saying about it:
"I can't believe how wonderful this product is. I have the driest skin in the world, nothing has really ever helped much. After one use my skin feels renewed, very silky and smooth, I feel like my face has been given a drink from the fountain of youth!!" - Kitty1060
"Don't look my age. Skin looks great. Use product twice per day with super results. My older sister uses it too. She loves it. We both recommend it!" - Pretty3pook
"I obsessed with OLAY products can never get enough been using OLAY products since I was 14 year's old and I will be 28 in August. Keep up the Great work, OLAY company." - Cosmo1989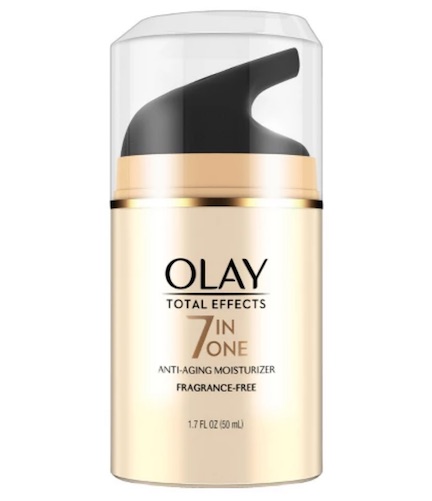 Olay Total Effects 7 In One Anti-Aging Moisturizer ($17.59)
Target shoppers are also obsessed with Olay's Total Effects 7 In One Anti-Aging Moisturizer, which uses the brand's VitaNiacin Complex II to fight the seven common signs of aging. It's fragrance-free and rich in vitamins to help hydrate, nourish, and replenish the skin's moisture barrier.
What people are saying about it:
"Very minuscule scent, thick yet lightweight on the skin (massage it into your face until you no longer feel it). I always find myself coming back to this stuff. I've tried $200 creams but they never work as well as this stuff." - SAHM89
"I have sensitive skin and get nervous to try new products. This keeps my face soft, supple and smooth." - Jet
"I love this product! My last moisturizer was giving me milia so I had to make a change. I have pretty dry skin and a lot of moisturizers still seemed to leave my face feeling dry - Olay feels great though! A bottle seems to last me a few months. Highly recommend!" - tors710
Are you an Olay fan? Let us know which products you love in the comments below!
Photos: Shutterstock
SheFinds receives commissions for purchases made through the links in this post.