Every bride is beautiful, but when it's your turn to walk down the aisle you'll want to stand out from the pack. Aside from finding a gorgeous gown, you also need your hair and makeup to be beyond perfect. That's why we asked some beauty pros to share the trends they believe will be the absolute hottest for 2019. From Meghan Markle's messy bun to monochromatic makeup, here are 11 trends you'll want to test out before your big day.
Shutterstock
1. The Low Bun
"Meghan Markle's perfectly undone low bun will dominate fab-u-tress hair trends in 2019," says Nancy Ramirez Ayala of Blo Las Vegas.
Imaxtree
2. Navy Accents
"Whether it's a subtle shade of navy or a moody midnight blue, navy accents around the eyes are a new trend in bridal beauty. Whether it's a thin navy blue eyeliner or even a navy blue kohl eyeliner that's smudged close to the lash line, navy is so versatile and suits any skin tone," says makeup artist Vincent Oquendo.
Splash News
3. Headbands
Hair accessories will be hot in 2019, including headbands in metallics, white satin & silk, and even black velvet for contrast, says Ramirez Ayala. "The headband has really replaced the veil."
Splash News
4. Big Waves
Most of the brides are asking for more of a Hollywood glamour feel, with big waves and curls, says Katelyn McCullough of Elwynn + Cass. "They want to move away from the easy and breezy beachy look and have something a bit more glam for the wedding day."
Shutterstock
5. Loose Braids
When it comes to hair trends, nothing is hotter than braids, says Emily Honeycutt, salon manager at Supercuts. "The style is to have the braid very loose and pulled apart. I typically do a Dutch braid, which is like a French braid, but each strand is pulled through from underneath so the braid rests on top. This makes it easier to pull each piece apart."
Shutterstock
6. Red Lips
This fall marks the return of the classic red lip, says Ami Mallon, Global Corporate Educator for Osmosis Colour Mineral Cosmetics. "Whether you try a cool currant or go bold, red always makes a statement and can offer a hint of danger and a romantic touch to any look!"
Shutterstock
7. Low Ponytail
A minimal look in bridal trends is a low ponytail, say the pros at Bentley Hair & Beauty.
Imaxtree
8. Silvers
Brides will get their pretty-on in 2019 with ethereal silvers, says Ramirez Ayala. "We'll see a really natural glow to skin with a hint of highlighter to enhance."
Shutterstock
9. Loose Waves
Updos are a thing of the past, says Lacy Gadegaard of Laced Hair Extensions. Instead, brides will be opting for loose waves. "We're talking really undone waves in both long or short hair," explains Gadegaard.
Imaxtree
10. Soft Pinks
Brides will also be donning soft delicate pinks. "Above all, brides want to like themselves on their big day and a natural look goes a long way," says Ramirez Ayala.
Shutterstock
11. Monochromatic Makeup
The experts at found recommend applying perfectly coordinated shades for eyes, lips and cheeks for a bold, fresh look.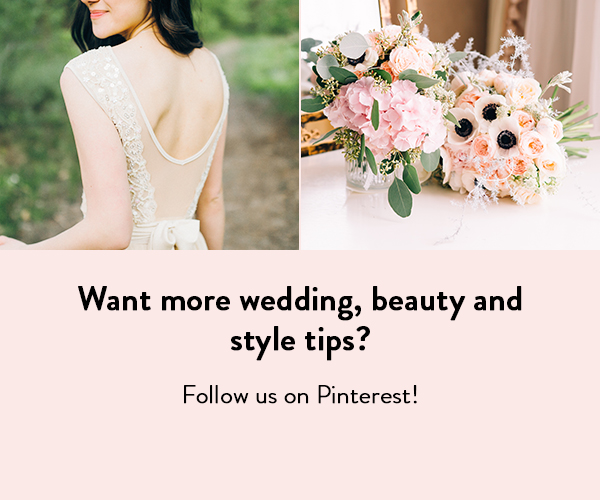 Want more wedding tips and advice? Follow SheFinds on Pinterest!