If you're planning to say I do in 2019, you're probably doing a lot of research on what will be in for weddings this coming year. But what about the trends that are out for 2019? There are quite a few wedding trends that are losing their place on the must-have list next year. After asking some of the top wedding planners and vendors for their opinions, here are the 19 trends that are out for 2019.
[Photos: Shutterstock]
1. First Looks
Don't feel pressured to have a first look, says Alicia Lapriore, Senior Catering Manager & Wedding Expert at Fairmont Copley Plaza in Boston. "Guests more and more want to see your excitement the first time you see each other, too!"
2. Empty Spaces
With today's couple being as busy as they are, expect all-inclusive options to really hit their stride in 2019, says Alex Hickman of Chalet View Lodge. "The days of brides pouring over their Pinterest boards and then spending countless hours researching every option imaginable are coming to a close. They're seeing that all-inclusive does not mean 'cookie cutter' and they're committed to making fewer decisions but still have a memorable bash."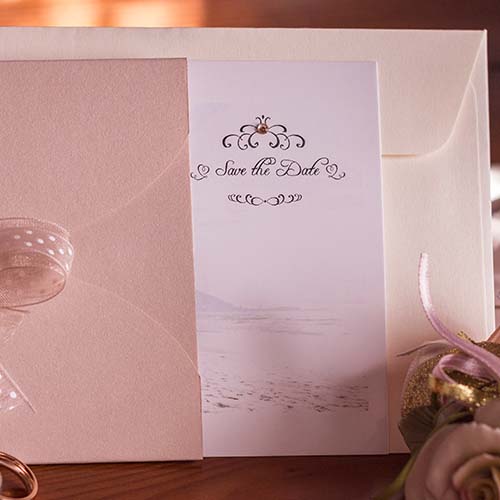 3. Short Engagements
Short engagements will be on the decline for 2019, as couples are opting for a longer engagement, says Nahid Farhoud of Nahid's Global Events. "In fact, this Spring, I found that they were already planning weddings for the end of 2019."
4. Ivory & White Wedding Dresses
"Even though Ivory and White are the most widely available colors in wedding dresses, we are seeing brides gravitate toward colored gowns," says Nicky Barua of Nidel Dresses. "There are brides wanting a total shift from white to a black wedding dress and there are others who are wanting just a splash of color by choosing a colored lining such as blush or lavender under lace. Colored wedding dresses are both unique and captivating."
5. Palm Leaves
Giant Palm leaves have been all the rage for 2017 and 2018 weddings, but for 2019 weddings, the tropical trend will be best expressed with king protea, pastel-colored orchids, and funky anthurium, says Michelle Edgemont of Michelle Edgemont Design.
6. Rustic Spaces
"The rustic concept is evolving so we'll see less of baby's breath and burlap as we make way for a refined look that leaves more room for elegance," says Danielle Gonzalez of Blooms by the Box. "We expect brides to move toward an industrial look, focusing on raw spaces filled with metallics and hard lines, and paired with lush greenery and soft florals for balance."
7. Pastel & Copper
Copper and pastels are out, with bright, rich color in all aspects of the decor coming to the forefront in the form of table settings, candles, linens, and, of course, florals, says Victoria Ahn of Designs by Ahn.
8. Sparklers
Sparklers for the grand exit are their way out, says Crystal Salazar of Cherry Blossom Planning Factory. "Does anyone really want fire in the hands of a bunch of drunk guests? I don't think so!"
9. Rose Gold & Blush
"They are gorgeous but I think they have run their course," says Sarah Schmirl of Make it Posh. "We'll see more neutral palettes paired with deep blues and jewel tones next year."
10. Seasonal Decor
Farhoud sees wedding florals moving away from pairing with a specific season. Instead, brides might opt for turquoise color weddings in the fall instead of the normal autumnal hues.
11. Favors
Couples are opting for late night snacks or an extra special or creative dessert in lieu of favors so their guests can have even more fun in the moment, says Lapriore.
12. Naked Cake
2019 is the year for elegant affairs and will bring back more intricate designs to the cake industry, says Schmirl.
13. Naked Table
And while farm tables have been a staple in the last few years, Schmirl says more couples are opting now for luxe linens to adorn their tables.
14. Traditional Cars
Traditional getaway cars will be less popular in 2019, says Salazar, who says she's seeing fire trucks, Tesla's, and decked out golf carts instead of limos.
15. Shabby Chic
"Instead you will see brides ditch the shabby and roll on with just the chic!" says Schmirl.
16. Traditional Buffets
While buffets will never totally disappear, Schmirl believes that couples will spread out the food displays by creating more stations. "This gives more of an experience for guests and by having stations like an Oyster or Raw bar paired with a carving station. Sides can be pre-set on the table as family style."
17. Large Bridal Parties
Brides and grooms are now asking their siblings or just a friend to be their MOH and Best Man for an intimate experience, says Lapriore.
18. Greenery
The last two years have been all about greenery only weddings --either to save money or create an immersive garden experience, says Edgemont. "For 2019, we are seeing more couples wanting a lot of lush, beautiful blooms instead of all the greenery."
19. Photo Booths
"We've all been to at least a dozen weddings that have a photo booth and they are losing their luster, says Schmirl. "Instead we'll see more video booths, virtual reality and other details that will lend to guest experience like mobile bars, prosecco vans and mixologists onsite."
Want more wedding tips and advice? Follow SheFinds on Pinterest!
For more wedding advice and tips, check out:
--27 Wedding Trends That Are IN For 2018
--11 Mistakes Brides Make When Choosing Their Wedding Colors
--7 Classic Wedding Ideas Brides Always Forget To Incorporate In Their Wedding