gigi-hadid-gym
Gigi Hadid
probably has the most toned stomach of any supermodel. It's no wonder she's always wearing crop tops! But her rock hard abs aren't all #blessed genetics--apparently, she got them just like anyone else would: exercise.
Her trainer,
Rob Piela
of Gotham Gym,
breaks down her workout routine
for
Vogue
. He suggests ab workouts four days a week: planks to work deeper muscles, crunches for a visible six-pack and leg raises to target the lower abdominals. "The combination of those three moves is golden," he tells the mag. Piela also recommends eating well and cutting out sugar too. Now, here are the actual steps to get you those Hadid-worthy abs:
1) Warm up the core with 10 minutes of boxing.
2) Perform three sets of 40 crunches each.
3) Raise your heart rate with 10 minutes of boxing.
4) Perform three sets of 40 bicycle crunches each, kicking each leg out once per bicycle.
5) Box for another 10 minutes.
6) Take a plank pose to hit the transverse abdominals, holding for about 60 seconds, or as long as you can maintain good form (abs tight, no sway in the back, and the neck in a neutral position).
7) Super-set straight into leg raises to hit the lower abdominals, performing four sets of 25 leg raises each.
[Photo: Splash News]
Britney Spears
Did you see Britney Spears' body at the Billboard Music Awards last night?? The pop star looked insanely fit while performing a medley of her biggest hits--I mean like 2001 VMAs "I'm A Slave 4 U" fit. How did the mom of two get in such good shape?

She told Women's Health, "I like my workouts to be effective in a short amount of time. I start with 20 minutes of intense cardio—usually running— move on to light free weights, body-weight exercises such as pushups, squats, and situps, then finish it off with a stretch."
Jessica Alba
The Honest Company CEO swears by the 321 Training Method that her trainer Ramona Braganza created: a 1-hour workout that includes 3 cardio segments, 2 circuits of strength training and 1 core element.
Cameron Diaz
Cameron Diaz uses CrossFit, the exercise craze that combines everything from weightlifting to cardio to flipping extremely large tires, to maintain her athletic bod.
Gwen Stefani
The Voice judge is a fan of TRX suspension training, created by Navy SEALs! The total body workout targets every single muscle and improves your balance and flexibility.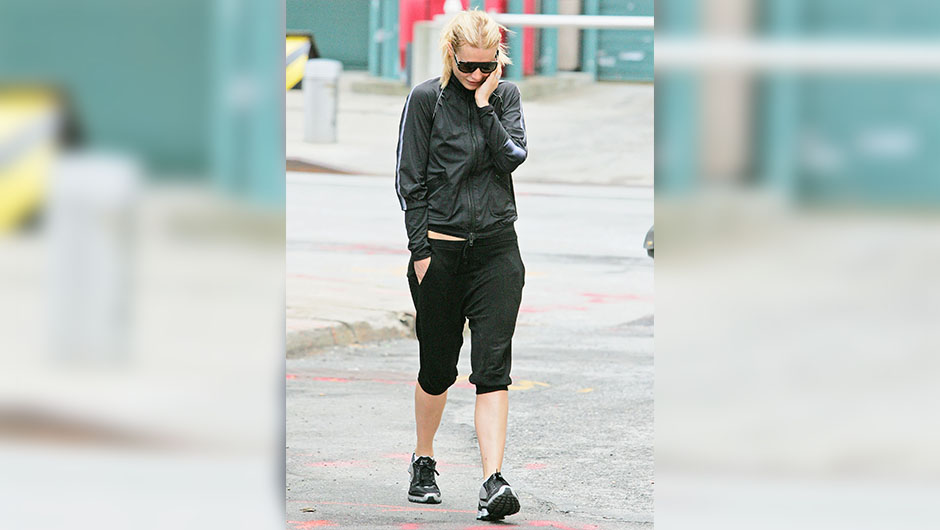 Gwyneth Paltrow
Gwyneth Paltrow is a complete devotee (and investor in!) the Tracy Anderson Method. The petite blonder trainer is known for grueling arm, leg and ab exercises.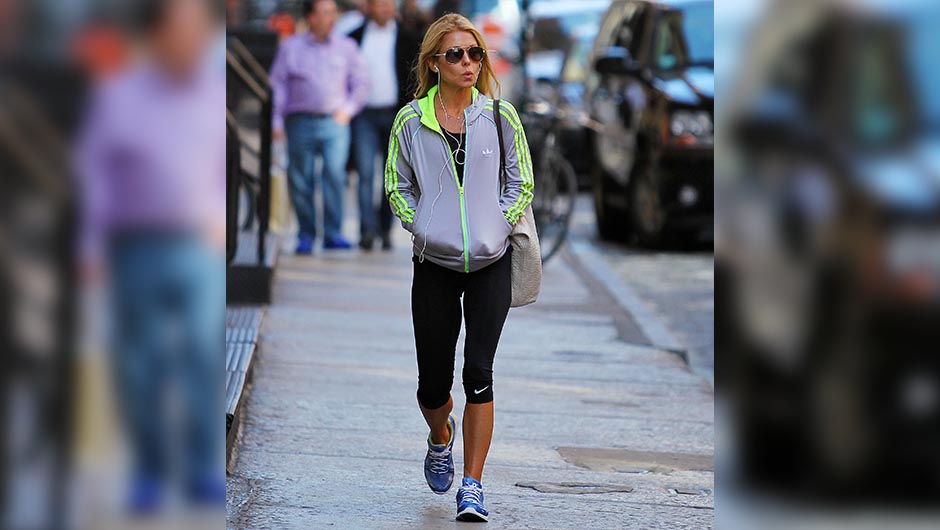 Kelly Ripa
The Live! host is a HUGE fan of spin sensation SoulCycle. She even taught a class live on her morning talk show!
Jennifer Aniston
The 47-year-old practices Yogalosophy, created by her longtime yoga instructor Mandy Ingber, 3 times per week. The fat-burning workout mixes typical yoga moves with cardio and toning exercises.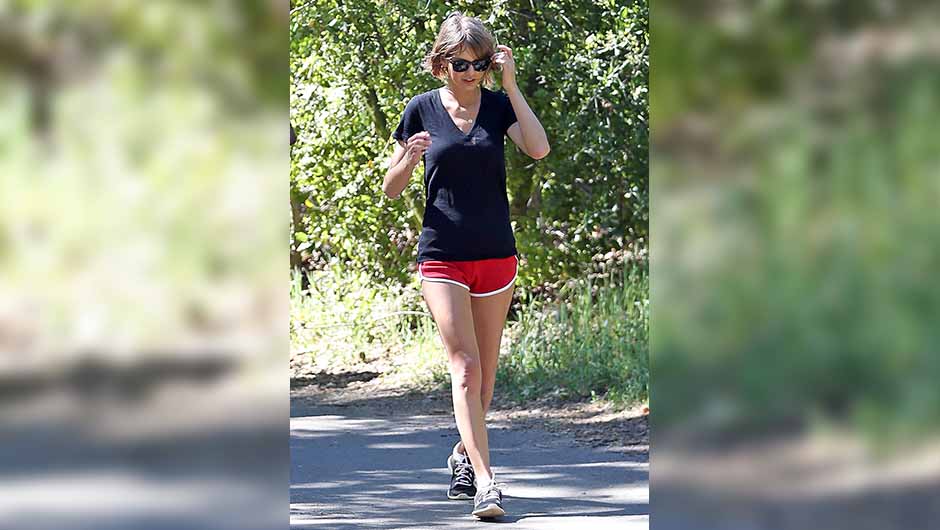 Taylor Swift
Taylor Swift got in to ModelFIT, a go-to for Victoria's Secret angels like Swift's BFF Karlie Kloss. The NYC-based studio has 1-hour workout classes that feature a mix of pilates, yoga, movement, motion, balance stability and functional training.
Beyonce
The IVY PARK designer told Self that she stays fit by doing bicep curls with five pound weights for one entire song.
Kate Hudson
The Fabletics spokeswoman swears by the Booty Belt to get her enviable legs and butt.
Jessica Biel
The secret to Biel's amazing physique is Barry's Bootcamp, which combines strength training and intense cardio in a 60-minute class.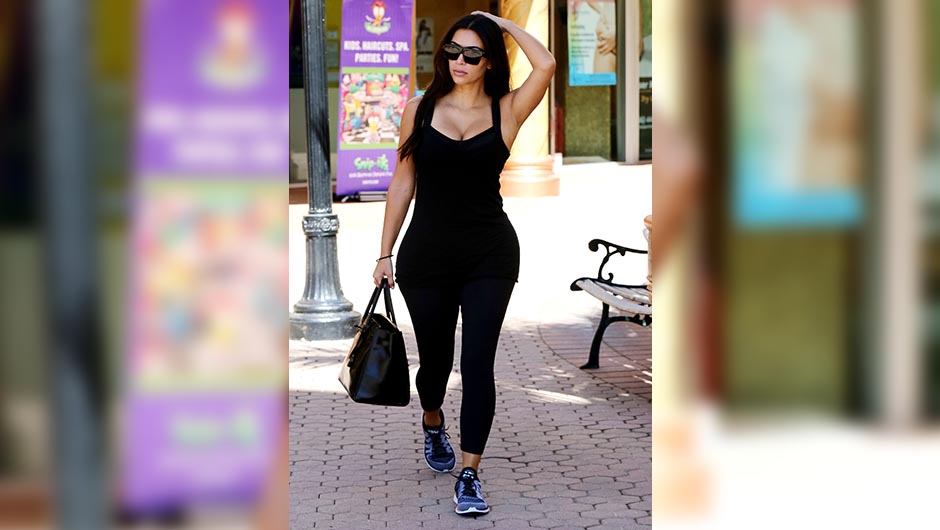 Kim Kardashian
Kim Kardashian's secret to shedding 60+ lbs of baby weight twice? Trainer Gunnar Peterson says weight lifting mixed with low-impact cardio is the trick.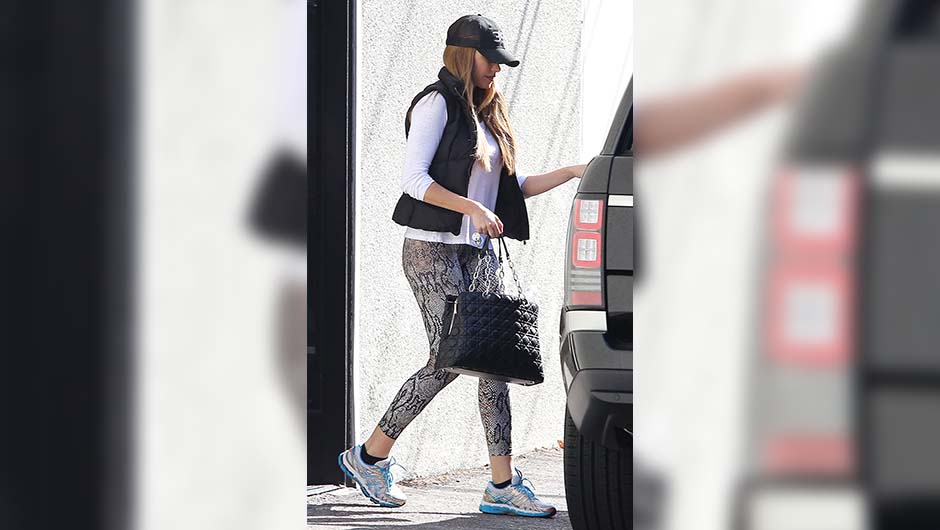 Sofia Vergara
The "Modern Family" actress does a variety of squats and lunges with Gunnar Peterson (the trainer of choice for the entire Kardashian-Jenner clan!).
Vanessa Hudgens
The High School Musical alum is one of Hollywood's many yoga and pilates devotees.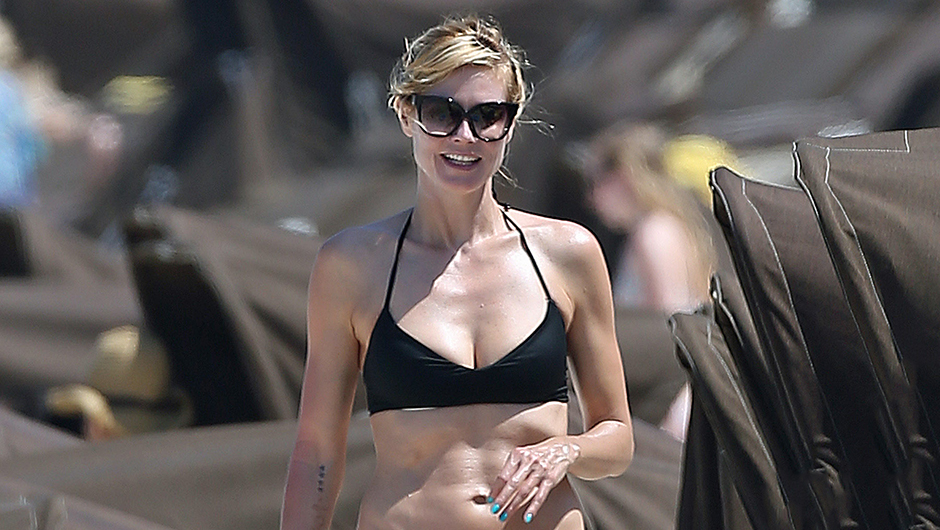 Heidi Klum
Heidi Klum - supermodel, TV host and producer, fashion designer, occasional actress, and currently a judge on America's Got Talent - has always been, well, freakin' hot. She has gone from baby-to-bikini ready FOUR times - insane, we know - and at age 43, she's still got it! She's gorgeous, and all we want this summer are her toned abs and fit physique... wishful thinking, maybe?
Nope. We did some searching, and found Heidi's Ab Workout that gets her ready for bikini season!
Get Slim. Combine cardio and weight strengthening. Heidi does cardio 3 times a week, light weights 2 times a week. Remember to only do what you can handle, but this combo will make sure you work of some unwanted weight!
Work Your Core. Pick your favorite ab workout and go for it! Here's one we (and Heidi) love: Lie face-up holding a stability ball with your arms extended over your head, raise your arms and legs to meet over your abs and place the ball between your ankles, and repeat movement, passing the ball back-and-forth between your hands and feet! Heidi does 3 sets of 10, 3 times a week *woah*
Get Your Glutes Going. - Heidi loves doing Sumo Sidekicks - what? Stand with your feet wider than shoulder-width apart and bend your knees past 90 degrees. Then kick your right leg to the side at about hip height, and repeat on your left leg. Try doing 20 reps 3 times a week to get a bathing-suit-ready booty!
[Photo: Ryan Turgeon/Splash News]