When we want to snack healthy we often reach for a piece of fruit. It presents as much more body-friendly than a bag of chips. Fruit has the vitamins, nutrients and fiber you need to stay fit but eating too much can actually damage your weight loss goals. Just like any food, you should eat fruit in moderation and pick and choose wisely. Consuming too many sugary fruits could pack on pounds. Stay alert in the produce aisle and avoid these saboteurs.
Shutterstock
Dried Fruit
You probably add dried fruits to salad, oatmeal and yogurt, or snack on a handful. But they contain so much natural sugar that Andrea Wise, a Chicago-based trainer and nutrition coach, calls them a calorie pit. If you want some dried cherries on your salad, enjoy! Just don't use half the bag. Use portion control to keep things healthy. Instead of eating dried apricots from the bag, place 4 or 5 in a small bowl and call it a day. Better yet, opt for fresh berries. They're packed with fiber and are low in carbs.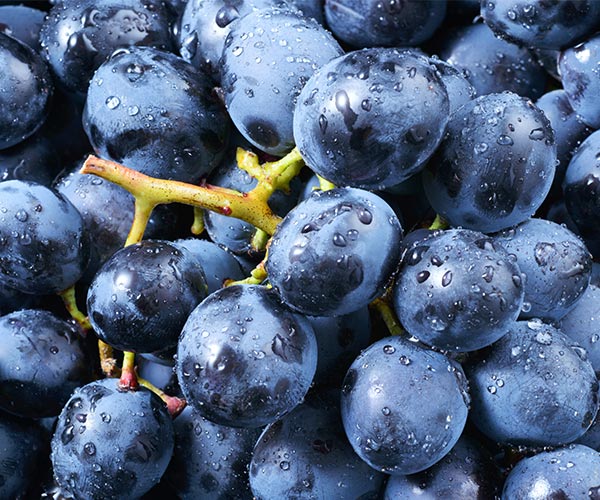 Shutterstock
Grapes
"Grapes are a sneaky calorie fruit if you mindless snack away on them," says Wise. Oops. We're guilty. Eating more than one cup of grapes delivers sugar that can quickly turn into fat. So like dried fruit, grapes need strict portion control. Don't tempt yourself with an entire bunch of glossy grapes. Grab a dozen and cut them in half so it seems like you're eating more. Or mix them with berries and clementine segments to create a hearty fruit salad.
Shutterstock
Fruit Juice
Fruit juice is not really, truly fruit. "It lacks fiber so what you're getting is just a carb that's going to spike your blood sugar," says Alix Turoff, a New York City nutritionist and trainer. Juice bars seem really cool and the pressed juices sound amazing but they're quite the opposite. Turoff says there's a trendy pressed juice that contains kale, spinach, parsley, lemon, and green apple. One bottle of it has 210 calories, 48 grams of carbs, 37 grams of sugar and 0 grams of fiber with just 3 measly grams. Now let's compare this "healthy" juice to a glazed doughnut from Dunkin' Donuts. The sweet treat has 260 calories, 31 grams of carbs, 12 grams of sugar, 1 gram of fiber and the same measly 3 grams of protein.
Shutterstock
Mango
When you eat a soft, ripe mango everything seems right with the world. But this delicious, fragrant, tropical fruit is packed with a boatload of sugar. This seriously kills us. When we go through the trouble of cutting up a mango we want to eat it in its entirety. Enjoy a few pieces at a time, says Wise, but don't eat an entire mango in one sitting. The fruit will keep for a few days in an airtight container in your fridge. Eat a few pieces straight up, add some to salad tomorrow and use the rest in a smoothie the following day.
Shutterstock
Canned Fruit
We love the tangy taste of pineapple. It has potassium – the number one enemy of belly bloat– plus lots of enzymes to ease digestion. But pineapple is only body friendly when it's fresh. Avoid the canned cubes because they're loaded with excess sugar and that's exactly what you're trying to avoid when chasing away those last 5 pounds. Any fresh fruit is always preferable to canned types from peaches to pears to mandarin oranges. There are ingredients in those cans to keep the fruit looking and tasting good. The next best thing to fresh fruit is frozen. It's just pure frosty fruit.