Getting motivated to work out is not easy, especially in the dead of summer, but one thing that always helps me get inspired is a cute outfit. Yes, I'm that shallow—but as they say: if you look good, you play good.
Butt-lifting leggings, sports bras cool enough to be worn alone, and super-flattering workout tops are at the top of my list—and guess where I just found all three! At Spanx, of all places.
The iconic shapewear brand is known for their killer bras and shapewear (duh), but did you know that they also have an activewear line? They recently dropped new styles, and I am obsessed.
So, why are they so great? Let's start with the fact that this company is obsessed with fit and fabric. Like their underwear, every piece of clothing is optimized to make your body look it's best. The active line features "booty boosting" design and "high performance technology," so you can crush your workout and get the #gymselfie while doing it.
Take for example the leggings.
Made with their trademarked Performance Fabric and waistband-free Thinfused Technology™, the leggings have 4-way stretch, which means you'll NEVER see through them (unlike some other brands, ahem). And they'll always stretch to move with you, never bunching or sagging. They're breathable with an antimicrobial finish so you won't completely stink up the room should you need to run an errand directly after your sweat sesh. And there is no center-seam so you don't need to live in constant fear of a camel toe.
They've also got a range of sports bras in high, medium and low impact support that are so well-designed—think camo prints and flattering V shaped back straps—that you can proudly wear them alone. From a tech standpoint, they're dig-free, breathable and made with quick dry fabric.
Add to that list crop tops and tanks that whittle your middle, such as my personal favorite, the perforated tank (below). It was made for hot days and has a super flattering neckline.
Alas, the collection is not cheap—think $118 for the leggings, $48 for sports bras, etc., but that's what you get for top-of-the-line manufacturing. If you're looking for cheap leggings that will pill and become see-through after one wash—keep it moving.
Shop now:
Spanx Low Impact Sports Bra ($48)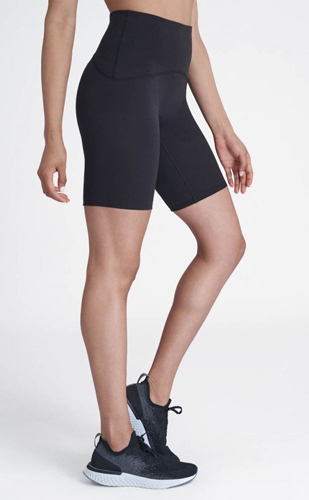 Spanx Booty Boost Active 7" Bike Short ($40.90, down from $62)
Spanx Faux Leather Active Cropped Leggings ($88)
Spanx Booty Boost Active 7/8 Leggings ($64.90, down from $98)