President's Day weekend always brings the promise of great deals for shopping. If you're looking to shop till you drop, Zara is a pretty good place to start. The store is known for their buzz-worthy holiday sales, both in-store and online.
Currently, on their website, they already have a variety of promotions going on. From major discounts to their sale section to free shipping on orders for $50, you're able to score big savings this weekend.
SheFinds reached out to a representative to fill us in on the holiday sales but they haven't gotten back to us yet. While the company hasn't advertised exactly what sales they'll be offering, trust that it will be nothing short of amazing. Last year, Bustle noted that Zara had 60% off sale items on President's Day. And since retailers usually anniversary their sale calendars (or make the discounts even better!) you can guess that the discounts this President's Day will be just as good–if not better.
So, while you're enjoying the long weekend curled up in your pajamas, make sure you check out Zara's sale items, starting as low as $9.99.
Also, did you see the amazing sales Lord & Taylor and Target are having? I mean c'mon, these stores really make it easy to blow through an entire paycheck in 15 minutes from your couch.
Everyone's wardrobe should include a nice faux fur coat that will keep you both warm and stylish looking.
Combined Faux Fur Coat ($89.99, originally $149.00)
Bodysuits are a great basic to keep in your closet. You never know when it will come in handy.
Shimmery Knit Bodysuit ($9.99, originally $25.90)
This puffer coat is $89.00 off--that's a pretty good reason to buy now, if you ask us.
Floral Puffer Coat Details ($29.99, originally $119)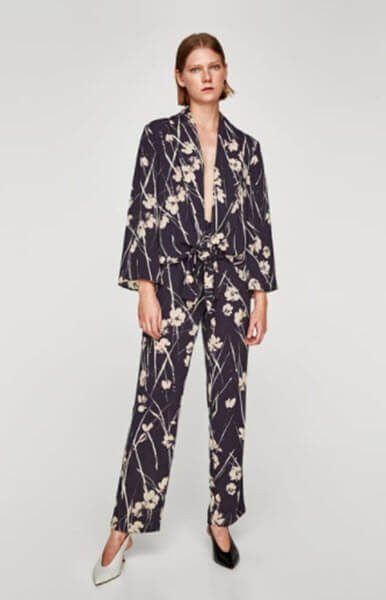 Scructured jackets are very in right now.
Flowing Jacket With Bow Details ($22.99, originally $49.90)
A grown up backpack is perfect for traveling. We love this studded one.
Studded Leather Backpack ($29.99, originally $69.90)
How cute will this satin top look for a girls night out? It's perfect for layering with a sheer long sleeve like the model in the photo or to wear alone in the warmer months.
Satin Top With Draped Detail ($9.99, originally $35.90)
The textured pockets on this sweater are amazing, end of story.
Sweater with Textured Pockets ($22.99, originally $69.90)
SheFinds receives commissions for purchases made through the links in this post.