Even if you're not on the fidget spinner bandwagon, you can't deny that they're everywhere. These three-pronged pieces of plastic and aluminum aren't just your average toys. With appeals to teens, adults, and essentially anyone with two spare hands, it seems like everywhere you turn there's someone fidget-spinning away when boredom sinks in. For this reason, this unfathomable trend makes the perfect 2017 Halloween costume. Stand out amidst the basic witch and cat costumes this year at all your Halloween parties in a totally on-point DIY costume. All your friends will have costume envy.
One man, Rob Cockerham, actually made a 6-foot fully functioning fidget spinner costume out of aluminum, plywood, styrofoam, and a shoulder harness, which seems like a lot of manpower, and you definitely want a costume that can fit within doorways. But hey, if you really feel like getting in the fidget spinner spirit, then follow in his footsteps by all means. Our version is a little more low key and much smaller, but we're all for getting in the true Halloween spirit.
To make this costume, you'll need a Lazy Susan or rotating cheese board, cardboard or styrofoam, paint/spray paint, a hot glue gun or Mod Podge, rope, and tape. Roll up your sleeves because this is going to be a wild DIY ride.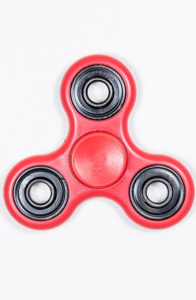 1) First, you need to make the spinning throng pieces. We recommend using styrofoam, since the 6-foot tall costume worked successfully with this material. Cockerham used a 4×8 styrofoam sheet and cut out 30″ circles. For a smaller-scale version, even using 12″ circles will suffice. The smaller you make it, the easier it will be to find bowls or kitchen appliances that you can trace onto the styrofoam. Gather any round surface you can get your hands on—you'll need a larger one for the throngs and a slightly smaller one to trace semicircles that connect the throngs. Cockham even made a makeshift compass using a nail, string, and pencil.
2) Next, channel your inner artist. You might have to draw the spinner at an angle to fit it in on the styrofoam, depending on how large you make yours. Use a ruler or measuring tape to lightly trace an equilateral triangle onto the styrofoam, which you can paint over later. The points of the triangle mark where your throngs will go. Position whatever round tracing tool you have on the middle of each triangle point so that they're evenly spaced out. It helps if you use a clear or transparent bowl for tracing so you can see where to perfectly align it over the triangle's corners. Once you trace the three prongs, use your smaller circle to draw semicircles in between the larger circles. If possible, you can even print out a poster-sized fidget spinner to trace for the most accurate representation. Use a craft or kitchen knife to cut out the completed shape. Fidget spinners usually have holes within the three throngs, so use another small round object for tracing and then cut these out.
3) Now, the fun part—painting! Spray paint is probably your fastest bet, so pick your color and get busy. You  To make it even more authentic looking, real fidget spinners all have black rings surrounding the cut-outs within the circular extensions. If you have a steady hand, you can trace rings around the hole cutouts and paint them black. Or, you can make the black ring pieces separately with leftover styrofoam, spray paint them, and attach with a hot glue gun.
4) Once you've made the base, you obviously need to make it spin! That's where the Lazy Susan comes into play. Position it facedown on the back of the styrofoam structure, directly in the middle. Use a hot glue gun or Mod Podge to securely fashion the two components together.
5) Here comes the tricky part—assembling this contraption on your body and making it functional. Using Mod Podge, a hot glue gun, duct tape, or a combination of all these things, attach two pieces of rope to opposite ends of the Lazy Susan so that you can tie it around your body securely. Cockerham actually positioned his fidget spinner costume around his neck and head, using a shoulder pad contraption to hold it up. If you're super handy, you can go this route. Otherwise, rope will have to do.
Be warned—this costume might hit you in the face, and maneuvering between rooms is going to take some talent. Happy Halloween costume making!
[Photo: Shutterstock]