I've been lucky enough to work in the beauty industry for about twenty years, so I'm pretty well versed in good skincare practices. Never sleep in Makeup, exfoliate regularly and use sunscreen daily. I've mastered a skincare routine that includes all the best tips from top beauty experts, but shockingly that doesn't mean I have perfect skin. Don't get me wrong, I'm not complaining. But if I'm honest, there's this dark spot right under the corner of my eye that bugs me every time I see. I'm not exactly sure what caused it; maybe there was one day I sat in the sun a bit too long without reapplying sunscreen or there was a blemish I just couldn't resist picking. Either way, it's there now and it definitely bugs me.
Obviously, I've been lucky enough to try lots of incredible skincare products, some of which were specially formulated to combat dark spots. Sadly, none of them were potent enough to make the annoying spot on my cheek completely disappear.
I wasn't defeated, though. I was ready and willing to try just about any product that promised noticeable results. So when Dr. Dennis Gross revealed they were releasing a brand new, highly effective dark spot serum that delivered results within eight weeks, I jumped at the chance to give it a try. In clinical trials, this serum was proven to work as fast as prescription grade 4% hydroquinone in improving dark spots and overall appearance–all without the irritation that's commonly associated with hydroquinone. That's major!
Dr. Dennis Gross' newly-launched IPL Dark Spot Correcting Serum is part of their Clinical Grade category, which is an advanced skincare line designed for people who are already acclimated to active skincare ingredients. As I mentioned earlier, I've been in this industry for a while, so I'm no stranger to seriously powerful skincare products. As such, this serum was right up my alley. Even better, this serum promised to not only fade current dark spots, but also to prevent future discoloration. Yes, please!
Like most beauty products, Dr. Dennis Gross' Clinical Grade IPL Dark Spot Correcting Serum doesn't work in isolation. In order to see the best results, you need to apply sunscreen every single day. I already do that, so that was no biggie for me. You also need to apply the serum twice every day. This would technically be a new step in my skincare routine, but I'm used to using serums in the morning and night, so it wasn't a huge inconvenience to add this one into the mix.
Because this serum promised results, I decided to document the appearance of my dark spot over the course of two months. Here's what my spot looked like before I started using the Dr. Dennis Gross Clinical Grade IPL Dark Spot Correcting Serum:
I started using the serum in early November, just as the weather was getting colder and drier. Here's what the spot looked like after two weeks of applying the serum all over my face in the morning and evening:
Week 2: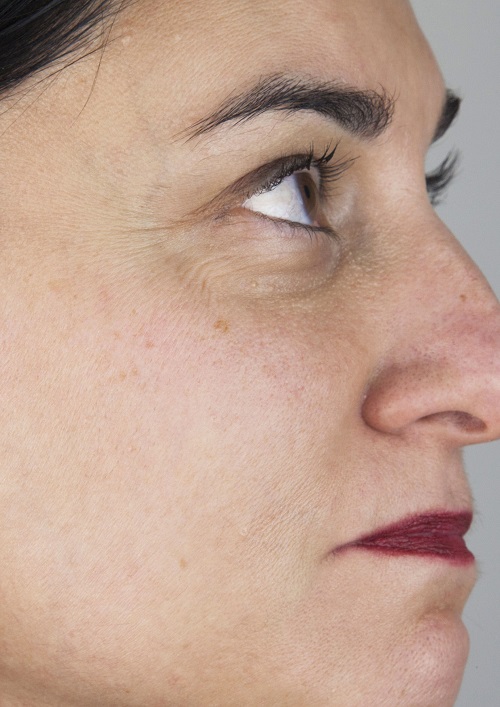 After two weeks I couldn't really tell if the spot in my cheek was fading or if what I was seeing was just me being optimistic. I had really high hopes for this serum; after all, it is formulated with lactic acid which helps remove dead skin cells, kojic acid which prevents discoloration deep within the skin and arbutin which stops melanin transfer; these are all powerhouse ingredients when it comes to comes to corrective skincare. I remained optimistic and kept at it for two more weeks.
Week 4: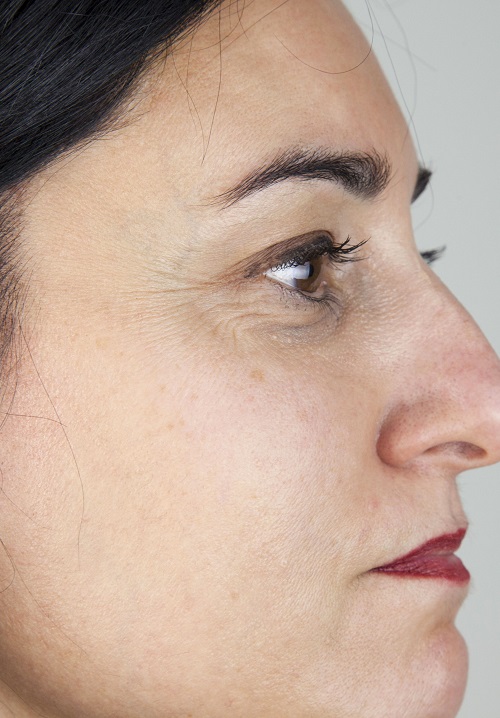 By the fourth week, I was a little more confident this serum was doing what it had promised. The spot was normally the first thing I noticed on my skin when I looked in the mirror in the morning and recently it hadn't been as noticeable, grabbing my eye every time I saw my reflection. This was promising.
At the end of week six, I'd definitely noticed a difference. The spot on my cheek was much less prominent, like I was turning back the clock and restoring youthful new skin on that part of my face. Even better, my overall complexion was also starting to look more even and radiant. I was really excited and committed to using the serum for at least another two weeks to see what would happen after the recommended eight week regimen.
Week 8:
After the full eight weeks, I was stunned. This serum really works! Not only did it fade the look of the dark spot almost entirely, but it also really improved the look and feel of my skin in general. After eight weeks, my complexion was significantly more radiant and supple. I'm beyond impressed!
If you've been struggling to reduce the appearance of dark spots or discoloration on your skin, I can't recommend this serum highly enough. It's definitely an investment, but it's worth it because it actually works! If you commit to using this product twice daily with sunscreen, you won't regret splurging on this serum.
SHOP DR. DENNIS GROSS CLINICAL GRADE IPL DARK SPOT CORRECTING SERUM NOW
The editors at SheFinds wrote this post on behalf of Dr. Dennis Gross and received compensation as part of our agreement.