When I first stumbled across the Instagram of Brooklyn-based perfumery, DS & Durga, I was immediately struck by the brand's use of unusual and provocative imagery. Think a Dali-Esque photo of a foot holding a bottle of their perfume surrounded by geometric sand castles; another of a melting hand made of candle wax holding another bottle. I hadn't seen anything like it, and I knew I had to give them a try. I asked for a sample of "Bitter Rose, Broken Spear," a scent from their HYLNDS collection, immediately.
A few days later, my little vial arrived–in amazing, minimal packaging, nonetheless. I quickly spritzed my wrists, took a whiff, and… whoa.
First, this does not smell like a perfume–and I don't mean that negatively. Let's just say, if your idea of a perfect fragrance is Victor and Rolfe Flowerbomb, this probably won't be for you. But personally, I hate traditional, "perfumey" perfumes. You will never catch me in Chanel No. 5 or Light Blue (no offense). Maybe I'm a weirdo, but the scents that have always intrigued me are the ones that feel real, not like they were manufactured to make one smell sweeter. I like scents that could be found in nature or organically smell like a person or place that you love. I'm into fragrances that tell a story. And that's exactly what DS & Durgas "Bitter Rose, Broken Spear" does.
Imagine you are staying in a cabin in the damp, cold woods in Northern England. You walk outside, passing rose bushes, to grab firewood. You return inside, light the fire, and pour yourself a glass of whiskey. That is what BRBS smells like.
Once applied, the fragrance evolves like a story, too. Beginning with intense notes of burnt wood and moss, I admit, I was worried I may smell like I went camping for a weekend and didn't shower afterwards. But, the musty, firey notes melt away slowly, revealing a darkly-sweet, peppery rose scent that is intoxicating, and almost screams "I read a lot of Edgar Allen Poe." Whenever I wear this fragrance, I find myself constantly smelling my wrists throughout the day, to see how the scent has changed hour-by-hour.
All in all, this fragrance is a 9 out of 10 for me. The uniqueness is incomparable, but not so much that it is unwearable. Not to mention, it is very long lasting. It is non-traditional, unforgettable, and you can be sure that you won't smell like anyone else on the subway.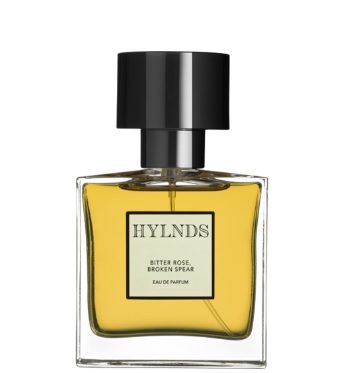 Be sure to check out the best drugstore beauty products and how to whiten your teeth at home.
[Photo: Shelby Rodriguez]