I wish I was comfortable wearing leggings beyond the confines my house, but the fact is I'm not. For me, leggings are my go-to when I'm home cooking, cleaning and laying around; there's no denying how comfortable they are. That being said, whenever I even think about wearing leggings outside my apartment, I start to fret about how much they'll show and immediately banish the thought from my mind.
But over the years, I've wondered why there isn't a pair of pants out there that's just as comfortable as leggings without being so tight and revealing for those of us who are a little self-conscious. Turns out, these pants do exist and EILEEN FISHER made them!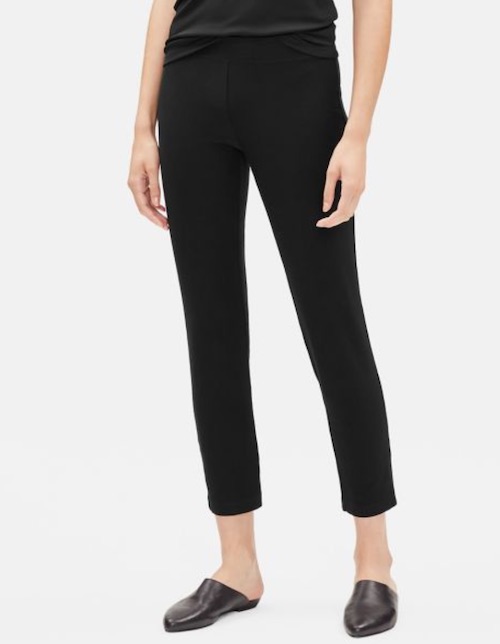 EILEEN FISHER System Stretch Crepe Slim Ankle Pant ($168)
I was recently introduced to EILEEN FISHER's System Stretch Crepe Slim Ankle Pant and I've basically wanted to wear them on repeat every single day since. These pants are beyond comfortable! They have a stretchy waistband that moves with you and the legs of the pants are nice and stretchy too, without being tight though; they gently graze the leg rather than hug it tight. Essentially, these pants are like leggings, only better!
These pants are part of EILEEN FISHER's "The System," a collection of items designed to be mix and matched in your wardrobe and worn forever. They're simple, yet classic and look good on literally every different body type. They're also super versatile in terms of where you can wear them and what you can pair them with. They can be dressed up with a blouse and blazer for work or you can totally throw on a sweatshirt with them to run errands.
If you only invest in one new pair of pants for spring, I highly recommend these pants be your treat to yourself. I have them in black and I'm already going back for navy.
SHOP EILEEN FISHER'S SLIM ANKLE PANT NOW
SheFinds receives commissions for purchases made through the links in this post.