Rose gold is having a major moment right now–and if you're anything like me, you're totally loving it. The rose gold obsession is nothing new, but it's still going strong for 2018. The metallic feminine hue is everywhere, from rose gold sneakers, rose gold phones, and rose gold polish for your nails.
As someone with a closet full of neutrals (I'm talking all greys, blacks, and tans), it's unusual for me to fall in love with a color in any way, shape, or form. But rose gold is the exception for me. I won't lie–I even own a pair of sneakers in a rose gold bronze hue. They add a nice hint of shine to my typically all-black outfits. The obsession with this color is real.
Just like my rose gold sneakers add a nice pop of color to my day, so does rose gold nail polish. Whether you wear simple, neutral outfits like I do, or like more color, rose gold nail polish is a subtle hue that looks sharp on everyone's nails.
Out of all of my favorite rose gold polish options, it's no wonder that Essie makes my favorite. The nail polish brand creates a true rose gold nail polish shade called "Penny Talk." When I found it, I knew instantly that I would be wearing it constantly.
While I don't wear tons of jewelry on a daily basis, Penny Talk looks like tiny little pieces of rose gold jewelry on your fingertips. This Essie shade doesn't lean too copper-y or bronze-y, and is metallic while being completely glitter-free. The result is just the right amount of shimmer and sparkle. This rose gold polish has probably gotten me more compliments than all of my other nail colors combined!
In addition to the Essie Penny Talk polish, shop the prettiest shades of rose gold polish below.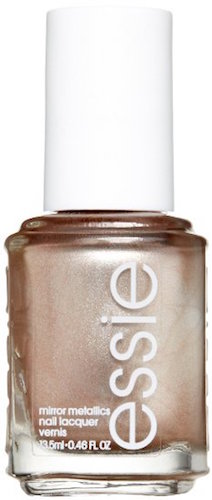 Essie Nail Color In Penny Talk ($8.99)
Promising review: "This color surpassed my expectations. I first saw it on Pinterest described as a "rose gold". But when I found it on Amazon, it looked more brownish. I took a chance and bought it anyway, and I love it! This color simply cannot be captured in a photo; it looks very different under different lighting conditions. It went on smooth a silk with just one coat. I do not like flashy reds or pinks, so this is the perfect color for me."
OPI Classic Nail Lacquer In Humidi-Tea Nude Shimmer ($10.50)
Promising review: "I've been using OPI since 2014 and my favorite one is bubble bath because it's the perfect sheer soft shade to make to make any French manicure. And I also love the Soft Shades collection!"
Sally Hansen Complete Salon Manicure In World Is My Oyster ($7.99)
Promising review: "Love the color! I chose to use a base coat to even out my nails but I think it would be fine on its own. Still looks great 9 days in!"
ORLY Breathable Treatment + Color ($8.99)
Promising review: "I love this line from Orly! I have several shades and the Breathable top coat for the glossy look I love, bought a new color today and will continue to buy the other colors I like. This line is top quality polish and I'm so excited they are expanding the color choices. Applies like butter too and long-lasting. Great job Orly!"
I just know you're going to become equally obsessed with these rose gold nail polish. Trust me, if you add one nail polish to your collection, it should be this one!
Also, check out 5 spring nail polish colors every woman should own on SHEfinds!
SheFinds receives commissions for purchases made through the links in this post.