Palmistry is no simple practice. I mean, check the lines on your palm, there are a TON and they all mean something different! For the sake of brevity, we'll keep this guide basic, focusing only in the major lines: the head, heart, and life line. Read on to find out what the unique creases of your palm say about you!
RELATED: Find Out What Your Favorite Urban Decay Product Says About You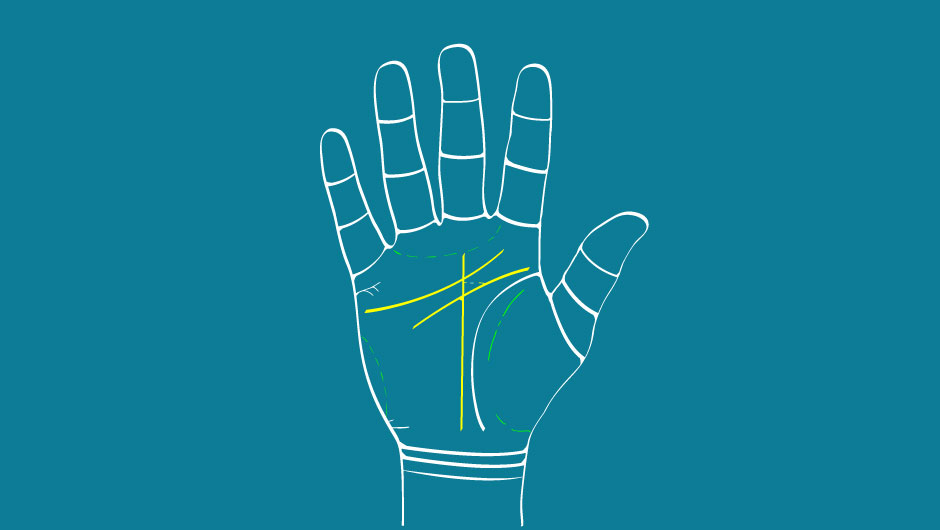 Life Line
The life line starts between your thumb and index finger and curves down toward your wrist (it's white in the diagram above). This line signifies the state of your emotional and physical well-being.
The deeper this line is, the easier your life is destined to be. But don't fret, struggle is a key part of the process.
If your life line is long, you are super down to earth. Your friends count on you to anchor discussions and solve disputes — and you love every minute!
If your life line is short, you are a busy bee! You're destined to run the world someday, and your schedule shows it — from work to cocktail hour, there's never a free moment!
If your life line is faint, you often let anxiety get in the way of your self-esteem and happiness. STOP that, right now! Anxiety ain't got nothin' on you, girl!
If your life line is broken, you're no stranger to trauma. Your early years play a huge role in the person you are today — though it's been difficult, you wouldn't change a thing.
RELATED: Find Out What Your Butt Shape Says About You

Heart Line
The heart line often runs parallel to the head line. In the diagram above, it's the top yellow line that runs from pinky to index finger. Your heart line forecasts matters of the, um… heart. Basically, it evaluates the emotional state of your relationships with others.
If your heart line is short, you often struggle to make meaningful connections with others. Though you may not realize it, you tend to focus on yourself, which totally puts people off. Step out of the spotlight for a second and ask your friend about her day.
If your heart line is long, you are very friendly and outgoing, but this behavior isn't always healthy. You expect a lot from your loved ones, and they don't always deliver. Keep your expectations realistic — no one's perfect!
If your heart line is faint, you might be more of a loner. You appreciate your quiet time, and you really don't mind spending a Friday night (or two, or three…) alone.
If your heart line is broken, you tend to stress out in social situations. Don't forget to breathe, girl!
RELATED: Find Out What Your Shoe Size Says About You

Head Line
Your head line focuses on your intellectual and psychological development. It falls between the heart and life line, running diagonally across your palm with one end at the crook of your index finger and thumb.
If your head line is short, you are an incredibly logical thinker. You don't have much time or energy for speculation — you tend to cut straight to the point.
If your head line is long, you think before you speak, ALWAYS. You're one to weigh options. Among your pals, you're the queen of the pro-con list.
If your head line is faint, you are a dreamer in the truest sense. You're incredibly creative and your mind is always taking you away on a new adventure — just don't forget about the adventure you're living: REAL LIFE.
If your head line is broken, you tend to overthink (like, A LOT). Try to turn your brain off every once in a while. There's a lot of value in taking a mental vacay.
RELATED: Find Out What Your Celebrity Style Icon Says About You

Don't forget to check out: Find Out What Your Favorite Soda Says About You and Find Out What Your Favorite Beyoncé Album Says About You
[Photo: Ashley MacDonald]