Bathing suit season is nigh! Which swimwear look are you taking to the beach this year?
RELATED: Find Out What Your Favorite City Says About You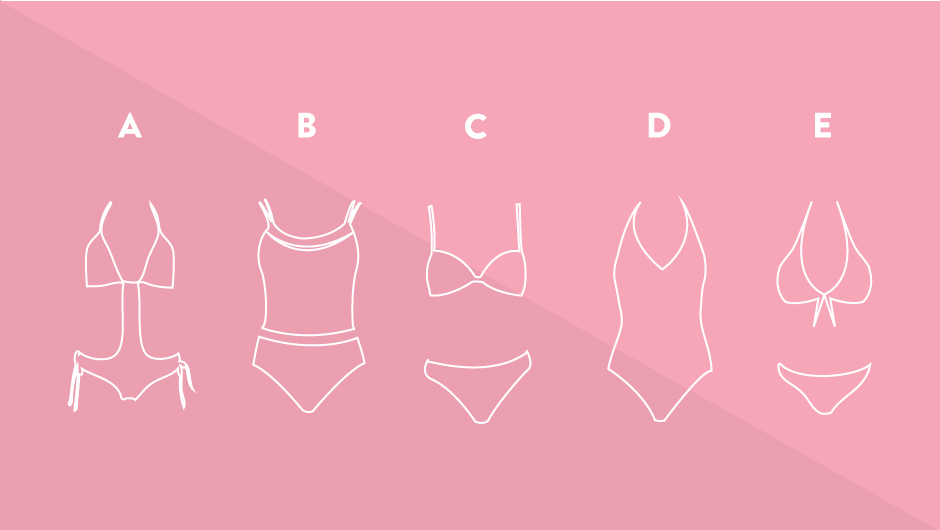 A) Cut-Out
If the edgy cut-out bikini is your jam, you are a total wild child. You crave attention wherever y0u go, and knowing you, you usually get it! You have that magnetic quality that attracts friends and admirers at every turn, but you're not interested in just anyone. You have a very discerning eye when it comes to new friends and love interests, you're really looking for someone who sees past the glitz and glam of your lifestyle and is able to confront the real, true you. Have you found that person?
RELATED: Find Out What Your Favorite Fast Food Says About You
B) Tankini
Tankini gals are modest, sure, but that doesn't mean you don't know how to have a good time! On the contrary, the tankini-lover is often the most daring of them all. You know your limits, of course, but you love nothing more than a good adventure. Try a new water sport, eat a new type of sushi — do it all, girl!
RELATED: Find Out What Your Eyeliner Type Says About You
C) One-Piece
One-piece swimsuits are the most traditional swimwear choice, of course. And to some degree, you do consider yourself traditional, but you're probably the only person who'd say so. Among your friends, you're known for letting your freak flag fly. You say what you feel and you don't let society or your peers censor your opinions. But, personally, you find a great deal of pleasure in the simple things — Gilmore Girls marathons, macaroni and cheese, gel manicures… You have a basic side that no one really knows about, it's your little secret.
RELATED: Find Out What Your Wedding Song Says About You
D) Bandeau
Bandeau girls tend to be fairly independent. You might not see it, but this quality can be very intimidating to others. Every once in a while, remind your closest pals that you really, truly need them. No matter how independent you are, a girl always needs her besties!
RELATED: Find Out What Your Go-To Lipstick Shade Says About You
E) Bikini
Bikini lovers are very self-aware — sometimes too self-aware… but you already knew that. Don't let that self-awareness get you down on yourself. Remember that you're a diamond in the rough, girl, and sometimes your perception isn't as clear as you think…
RELATED: Find Out What Your Tongue Shape Says About You
Don't forget to check out: Find Out What Your Lip Shape Says About You and Find Out What Your Wedding Bouquet Says About You
[Photo: Shelby Rodriguez]