Cheese makes people feel some type of way. Within the group of us who love it, there are loyalties to which type is the BEST. Maybe you're a Brie or bust type of gal or never fail to melt mozzarella all over everything. If you've got a favorite cheese, that says something about your personality–find out what it means below!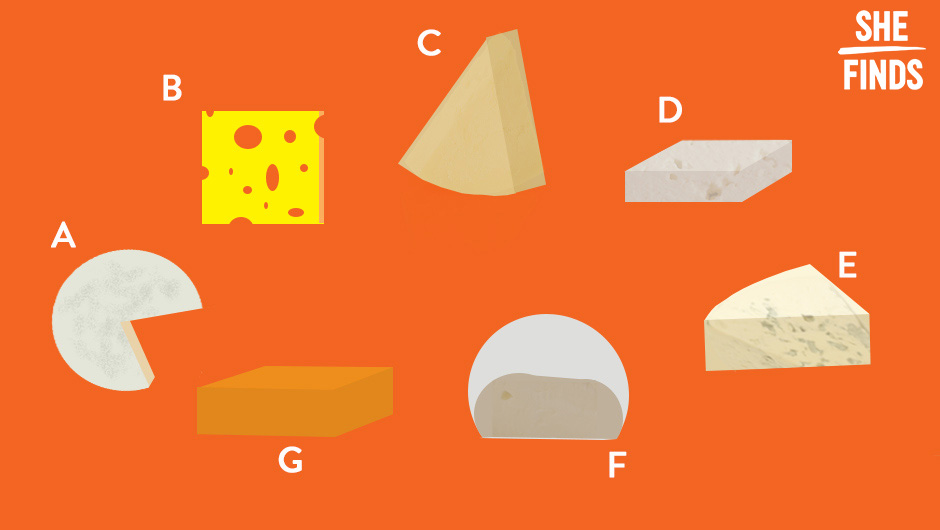 A) Brie
Oh, you fancy, huh? Brie cheese lovers definitely like the finer things in life. You want all your experiences to be cool and unique at any cost. You are definitely the one in your friend group who is always down to do stuff, which is great, but make sure you take some time for yourself every once in a while to just ~*chill*~. With a slab of Brie and some wine, of course.
B) American
If American cheese is your fave, then you take comfort in familiarity. You go with what you know and like to play it safe. Totally get that. But, maybe try and branch out (starting with trying new cheeses!) and you'll find that the unknown isn't as scary as it seems! And if it doesn't work out, at least you already know what you DO like.
RELATED: What your ring finger length says about you
C) Parmesan
Parmesan lovers are feisty! Your non-stop energy keeps those around you entertained. You always stand your ground and never miss an opportunity to share your opinion. While we're all about speaking our minds, sometimes, it's just not even worth it to get started with someone who will never agree with you (nah mean?).
D) Feta
Feta, feta, feta, you are an open-minded one. You are always looking for opportunities to learn and are quick to absorb new knowledge. Just remember, though, you can't believe everything you hear–sometimes it's best to take information with a grain of salt.
RELATED: What your shoe size says about you
E) Blue
You are the life of the party, the person everyone always wants to be with and be seen with. That last part is important. Make sure you surround yourself with people who actually have your back, not ones who are just hanging out with you for the 'gram.
F) Mozzarella
Good ol' mozzarella! You are so reliable and friends can always count on you. But try to make yourself a little less available, and then you won't feel like people are taking advantage of your sweet, loyal nature.
RELATED: What your favorite nail polish color says about you
G) Cheddar
If cheddar is your go-to, then you must be a comedienne. You are hilarious! You like to keep things light and funny, which is great for cheering up your friends and family. They can always count on you for a laugh. Don't try and overthink being funny though, let it come to you naturally.
OK, now time for this: