What do your nails say about you? Quite a bit, actually! Take a look below to see if we got it right.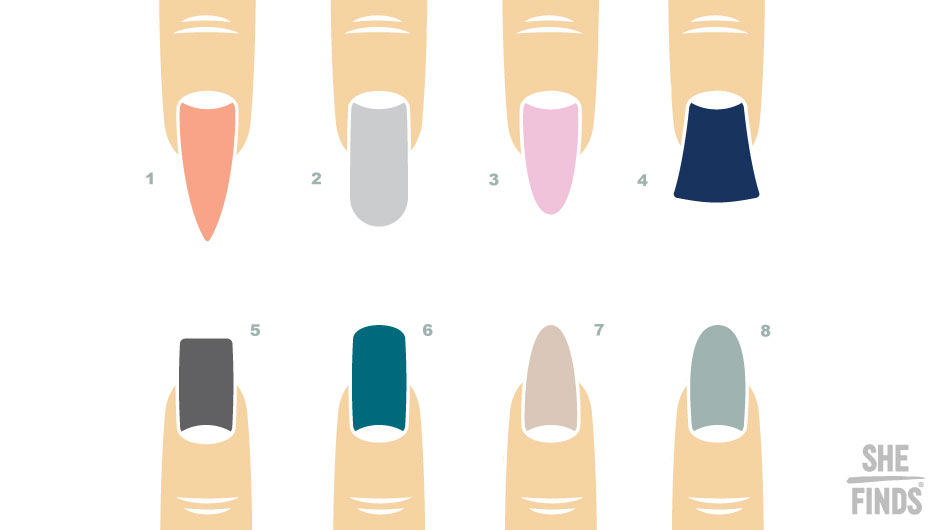 1) Pointed
You're bold, girl! The pointy, triangle-shaped nail belongs to a confident woman of many opinions and ideas. You're not afraid to say what you mean and say it mean, but you also value the advice and opinions of others. Some may describe you as hard-headed, but you always have the best intentions.
RELATED: What Does Your Wedding Scent Say About You?
2) Round
The round nail highlights the laid-back personality of its beholder. You rarely lose your cool, in fact, you're usually the one to smooth over conflicts between friends and family members. People turn to you for emotional support.
RELATED: What Does Your Favorite Nail Polish's Name Say About You?
3) Broad base
You try your best to get along with everyone, and for the most part, you succeed. However, your ability to tolerate others doesn't mean you don't have feelings of your own. You're easily hurt and you don't always know how to communicate this to others.
RELATED: What Does Your Handbag Say About You?
4) Broad top
If your nails fan-out at the tips, you probably struggle to keep your temper in check. Long, tedious tasks are no problem for you, but your patience runs out when it comes to managing others.
RELATED: What Does Your Jewelry Say About You?
5) Square
You're stubborn, but you always get the job done. Not everyone understands or can relate to you and your relentless drive, but they respect your follow-through.
RELATED: Find Out What Your Belly Button Says About You
6) Squoval
If your nail shape falls somewhere between a square and an oval, you're super creative and open-minded. Your imagination is always running wild, so it can be difficult for you to deal with people who rely more strongly on numbers and logic.
RELATED: Sweet Vs. Salty: What Your Guilty Pleasure Food Says About You
7) Stiletto
You're a perfectionist and everyone knows it. If you're not pleased with an outcome, the people around you will sense it. But you'd never openly criticize anyone's work — you're too polite!
RELATED: Find Out What Your Hair Color Says About You
8) Oval
You have a calming effect on those around you. Your passion for the environment and all things natural keeps you active and aware.
RELATED: Find Out What Your Eye Color Says About You
Don't forget to check out: What Does It Mean If You Play With Your Hair? Here's The Answer and These Are The Nike Sneakers Every Editor Is Obsessed With (Including Ours!)
[Photo: Shelby Rodriguez]