I think we can all agree that shoes are the best. Shoe size, on the other hand, is a dicey topic. Women are constantly being shamed based on the size of their feet! Too big, too small… WTF?!? Unless you're willing to take some pretty drastic measures, the size of your feet isn't going to change. There's no "right" size, though some will try to convince you otherwise. Every shoe size and shoe-lover is perfect as is, but not every shoe size and shoe-lover is the same… Find out what your shoe size says about you!
RELATED: Find Out What Your Celebrity Style Icon Says About You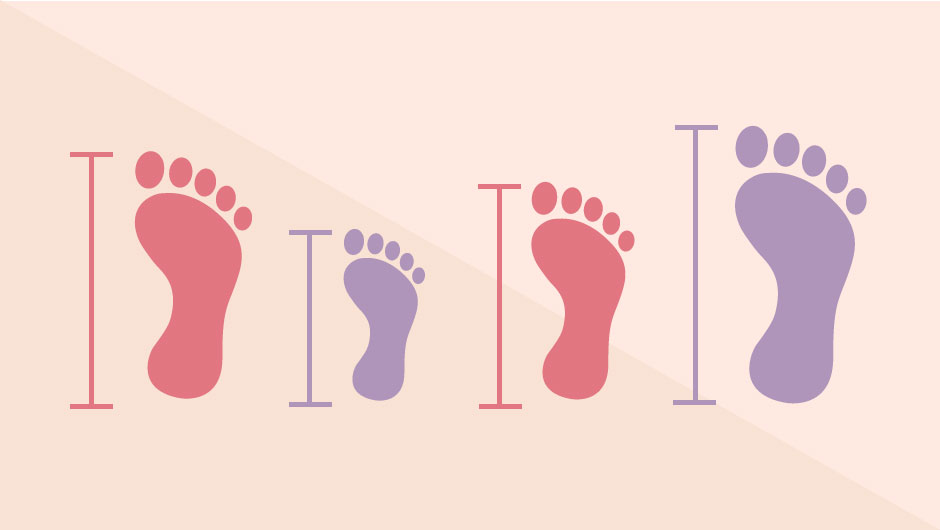 4-5
If your shoe size is a 5 or smaller, you are very particular when it comes to—well, most things. Whether dictating the amount of milk that goes into your coffee, or choosing the absolute perfect nail polish for the moment, you always have a few guidelines. Some may call you stubborn, but you prefer the term efficient.
RELATED: Find Out What Your Favorite Color Says About You
6-7

If your shoe size is between a 6 and a 7, you struggle with insecurity. This is probably due to a lack of proper self awareness. The person you see in the mirror is wayyy different and far less cool than the one everyone else tends to see. Be kind to yourself, girl! Work on building the kind of confidence you deserve.
RELATED: Find Out What Your Favorite Swimsuit Says About You

8-9

If you wear between a size 8 and a size 9, you often feel underappreciated and misunderstood. You're sometimes told that you that you belong to a different era, and you couldn't agree more — time machine, anyone? You tend to get along better with people your parents' age than your peers. While that's perfectly fine, it can feel a little isolating.
RELATED: Find Out What Your Favorite City Says About You
10+

If you wear a size 10 or larger, you're a born leader. Whether making plans with friends, working on a group project, or making a killer batch of cookies, you always find yourself taking the lead. Not only do you naturally gravitate toward the position, but you're really good at it, too! The people you work with, hang with, etc. love your leadership style and prefer when you take control.
RELATED: Find Out What Your Favorite Fast Food Says About You
Don't forget to check out: Find Out What Your Eyeliner Type Says About You and Find Out What Your Wedding Song Says About You
[Photo: Ashley MacDonald]