It's no secret that Forever 21 sells its fair share of designer knock-offs, but when we saw this one we couldn't help but balk. Not only does it look exactly like Celine's Trapeze bag, but it's even called the same thing!
We can't decide if Forever 21'a brazen copycat behavior is the result of an oversight or reflective of their IDGAF attitude toward ripping off designer work. Copying design is one thing, but going so far as to even name your bag the same thing? That's just flagrant and we're kinda shocked.
What do you think? Do you think Forever 21 should at least change the name of their Celine Trapeze knock-off bag or is all fair in love and fashion? Sound off in the comments.
And in case you needed a closer look, here's an authentic Celine Trapeze: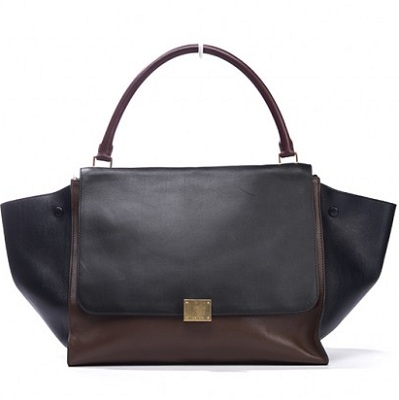 And here's the Forever 21 Paneled Trapeze Bag:
Pretty blatant, right?
 For bag we do approve of, check out this Coach must-have, My Other Bag and the Matthew Williamson handbags.