Snow and slush got you down? Fight back with these top five fashionable boots built to guard your feet against the rain, snow, and cold without resorting to your old UGGs or some beat-up PVC jobs you've had stashed in your garage.
The Comfortable Boots Fergie's Wearing: If you love this look, consider buying Fergie's Cole Haan Air Caprice winter boots ($297) with a wedge heel and Nike Air technology so you can actually walk in them.
The Can't-Tell-That-I'm-An-All-Weather Boot: When you simply can't wear a heavy-looking, flat boot, but the weather won't cooperate, these Pajar Energy High Shaft Dress Boots ($295) are the perfect high-heeled dressy shoes you need to look and feel great; they feature waterproofed leather, cozy lining, and a cushioned foot bed.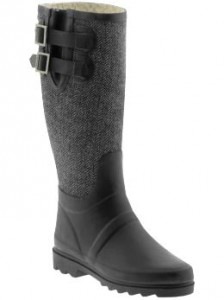 The Slush Boot: If you see more rain than snow where you live, you need something to keep feet dry like these very fashionable Chooka Herringbone All Weather Boots ($70).
The Low Boot: Sometimes all you need is some padding to keep your tootsies warm, and that's what these Shearling Low Boots ($275) provide: style and warmth without any extra bulk.
The Happy Hybrid: Streamlined, stylish, warm, and waterproof, these Hush Puppies Women's Icebreaker Boots ($109) strike a happy medium between fashion and practicality.
For more boots to keep you dry and cozy, check out our guide to the best winter boots, then put together your look with these winter fashions and rain gear.