If you wear a watch every day, chances are it takes a lot of abuse. Watches can be expensive, so it's a tad frustrating when you get a big gash right on the face. Jewelers can obviously buff out the scratch, but there's an easier (and cheaper!) way to do it yourself. Learn how to simply buff out a scratch from your watch face without breaking the bank.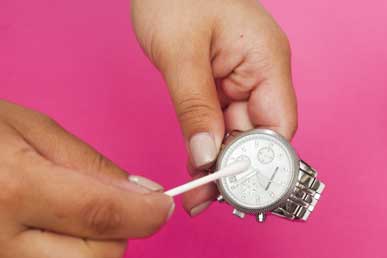 Believe it or not, most watch faces are made from plastic, which can be dissolves by nail polish remover. Soak a cotton swab in nail polish remover and gently wipe the scratch until it disappears. It's important to be gentle as acetone dissolves plastic. If your watch face happens to be glass, it will most likely need to be buffed out, but before you take it to a jeweler try the nail polish method!
Don't miss 11 reasons we're super excited for summer and how to store your sandals using a wire hanger!