Hearth & Hand with Magnolia, a home and lifestyle brand by remodeling and design duo Chip and Joanna Gaines, was introduced to Target two months ago. But already, the Target brand has had a MAJOR refresh! "Guests have already fallen in love with the brand's signature modern farmhouse aesthetic, and taken home lots of pieces to make it their own," Target states in A Bullseye View press announcement. The refresh happened yesterday, Dec. 26, 2017, with prices ranging from $.99 to $129.99 on 140 new items!
"The new items include décor and tabletop pieces like galvanized metal plant stands, glass and terracotta cloche bell jars, updated faux florals and greenery, and dishware," Target states. "The collection is also expanding into home office, introducing desktop calendars, planners, desk organization, file folders and holders, just in time to help guests get organized in the new year."
Here's some of the new Hearth & Hand with Magnolia items we cannot wait to decorate our home and office with — and some of them have great reviews already!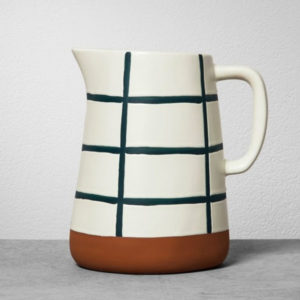 Hearth & Hand With Magnolia Stoneware Pitcher ($19.99)
Add a touch of rustic charm to your home with this stoneware pitcher. The pitcher features a simple navy blue grid pattern over a cream matrix with a terracotta bottom. It's perfect for pouring water at dinner or just as a decorative vase.
 Hearth & Hand With Magnolia Eucalyptus Wreath ($34.99)
Wreaths aren't only for the winter season! This beautiful eucalyptus wreath adds charm and festivity during any time of the year.
"I love this wreath! It's so full and the color is beautiful. I plan on adding a little bunch of fake oranges to it for spring time. So happy with this purchase." -Natalie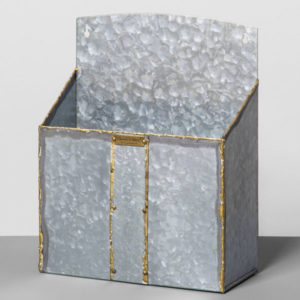 Hearth & Hand With Magnolia Zinc Galvanized Mailbox ($24.99)
We can all use a little organizing when it comes to our mail. This zinc mailbox with gold trimming comes with hardware to mount in your entryway or office.
Hearth & Hand With Magnolia Stoneware Dessert Plate ($4.99)
We are in love with this minimalist dessert plate. The uneven circular shape and "X" pattern design will bring a rustic charm to dessert!
"I love these plates. So far so good. I've used them for a week. Washing in the dishwasher isn't a problem. I wondered about food getting stuck in the little X indents but they wash well. They say dessert plate but I use them for salad/side plates and they're plenty big. They look great on top of a standard dinner plate." -vbrown801
Hearth & Hand With Magnolia Lidded Jar Container Candle ($12.99)
Fill your home with a wintry scent of sweet, woody birch with this Sugared Birch candle from the collection.
"It smells like pure Christmas, like having a Christmas tree in the house but not actually having one." -LLockwood
Not only does Hearth & Hand with Magnolia deliver charming and affordable products, but they are also a charitable brand, too! "In partnership with Target, Magnolia will be able to give back in a bigger way than ever before. Magnolia will donate time to help local communities and families in need, as well as provide monetary donations through the Magnolia Foundation to support organizations involved in orphan care, youth development, family housing and community restoration," Target states on their website. We're even more excited to get our hands on these Hearth & Hand with Magnolia products now!
Looking for more amazing Target brands to shop? Check out Askov Finlayson x Target, another charitable brand, at SheFinds.com!
[Photos: Target.com; Target A Bullseye View]