Last year we told you how to do a Abbi and Ilana from "Broad City" Halloween costume, and we think it deserves an update this year for the show's third season, which was quite possibly it's best yet. (Except for the "Rat Pack" episode–that was too gross). This costume is one of the best if not THE best BFF costume this year, so grab your bestie and do it up.
In case you're not already watching, "Broad City" is the Comedy Central show created by and starring Ilana Glazer and Abbi Jacobson, two millennial female comics who are killin' it right now."Broad City" was originally a web series before it was picked up for television, but I started watching it when it aired on the network in 2014 and have been hooked since. Not only does it touch on topics like ride sharing and Instagram filters and Tinder that are so relevant to my life–but it covers them in completely surprising ways. I mean literally, I never know what's going to happen next with these girls.
This year in season 3, Abbi and Ilana were up to their usual shenanagins (including one that finally gets Ilana fired for good from Deals Deals Deals). That's the episode I'm going to focus on for the costume.
Vanessa Williams guest stars as Ilana's boss at the coupon site Deals Deals Deals, where Ilana has somehow managed to get promoted to the role of social media editor (despite being the world's worse employee there). A wardrobe highlight of the episode is that Ilana shows up to work wearing a *dog hoodie*, a fact which her coworker Nicole proudly points out–as if Ilana could care less. It's so good.
For Ilana's Costume: 
For the costume, you could try to squeeze in to an actual red doggie hoodie like the one Ilana wears–but I'm not even sure if that's possible in real life. How about just wearing this cropped hoodie instead: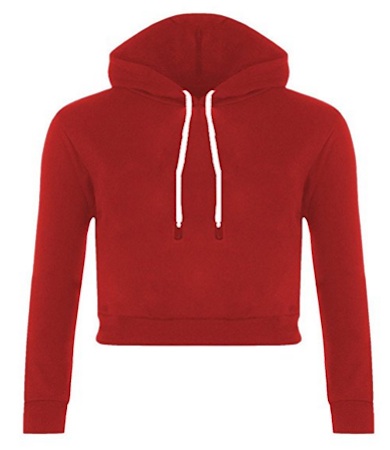 I like this Thiness Red Long Sleeve Crop Top Pullover Hoodie Tee Shirt ($7.49) from Amazon because it's only $7, nails the look and is in an actual adult size (so you don't have to be uncomfortable wearing the doggie version).
Ilana paints in her stomach (to make it more office-appropriate LOL) with red marker. Feel free to skip that part if it's too intense for you–although it will probably get some good laughs.
Next, you'll need a pair of denim cut-offs like the ones the "Broad City" girls always wear. I would use a pair you already own (if possible) or the cheapest pair you can find.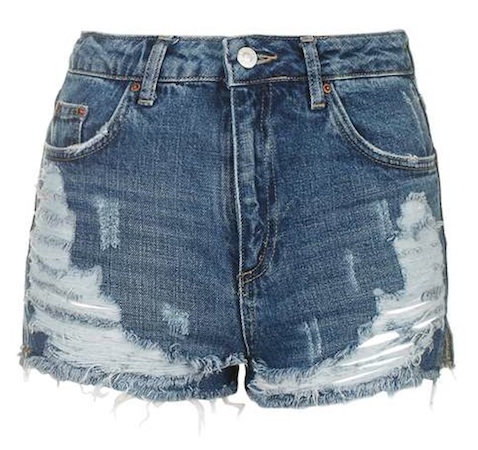 These MOTO Extreme Rip Mom Shorts ($60) from Topshop are cute–or these cheap ones from ASOS are good, too: Noisy May High Cut Off Denim Shorts ($25).
For Abbi's Costume:
In the episode Abbi has finally started to enter the coveted "Trainer" circle at her gym job (up from "Cleaner"–nice). She's competing in the staff "Soulstice Games Day"–so you'll need the Trainer tank, a blue bandana and some workout leggings.
Abbi and Trey get psyched up for the Soulstice Games. Photo: Comedy Central
What's amazing is that they actually sell a "Trainer" tank for the show online. I found it at Red Bubble. Here's the exact one (you have to get it if you're going to do this costume!):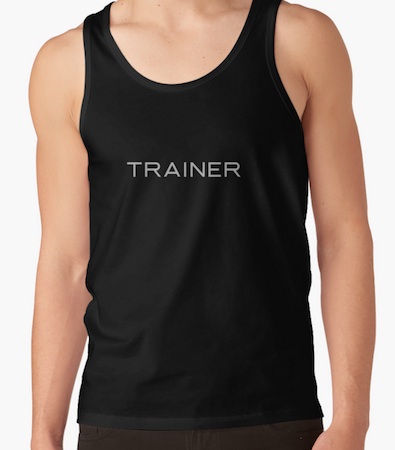 Oddly enough the Broad City Trainer Tank ($26.01) is unisex. Whatever–it's literally perfect so get it!
Next you'll need a blue bandana to show your team colors. You can use a blue scarf you already own, but a blue bandana is best–they're really cheap, so just grab one on Amazon:
This Paisley Bandana Scarf ($3.99) should work perfectly.
Top off Abbi's look with any workout pants you already own and sneakers. Voila! You've got a complete "Broad City" Halloween costume and you and your BFF only had to buy one or two things to get it!
SheFinds receives commissions for purchases made through the links in this post.