You're never too old to like Disney movies, so if you're a grown woman that *thoroughly* enjoyed this year's "Finding Dory" sequel, then you have every right to do a Dory Halloween costume this year. In fact, you can actually make it kind of cute–there are lots of Dory costume heads online, so just wear one of those and then a cute blue outfit of your choosing, and you're good to do!
And in case you need a refresher, Dory is the lovable character, voiced by Ellen Degeneres (who also produced the film), that originally appeared on screen in 2003's "Finding Nemo." Dory has like, no memory whatsoever, and forgets where she is, who she is, what she's doing every 2 seconds, which makes for quite an entertaining adventure (spoiler: she ends up in the California public aquarium). Her amnesia is one of her most distinguishing characteristics… so definitely act as forgetful as possible when in the costume ("Hi, my name is, ummm…. what's my name?" Etc.)
Here's what's you'll need to do the costume:
Option 1: Buy a full-body adult Dory costume
One way to go is to buy the full-body Dory costume ($37.80). I personally don't find pre-made costumes to be that original or inspiring, so I tend to try to put something together piece by piece–but if you're lazy or just like the idea of having the costume be around your body, then by all means go that route. You can pair it with black or blue skinny jeans, a long sleeve black or white shirt, blue face makeup and an easy shoe like sneakers or Converse.
Option 2: Put together a Dory costume using a fish head, fins, etc.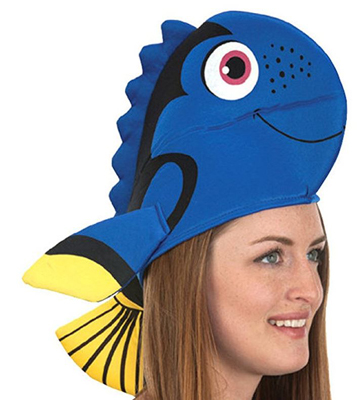 I think this Blue Fish Hat ($8.99) is friggin' hilarious and makes for a great, silly take on the Dory costume. It's definitely a conversation starter/statement piece if you're going to a Halloween party. You can wear pretty much anything on the bottom–you can be ask sexy (blue bustier and blue fishnets) or ask comy (blue track suit) as you'd like. You can also do really cool Dory makeup. Here's a tutorial you could us (it's even waterproof!):
For the dress, I like this Tiana B. Sleeveless Blouson Chiffon Midi Dress ($39.99) because the bottom skirt overlay sort of looks like water flowing. It will literally look like you're swimming when you walk. So cute!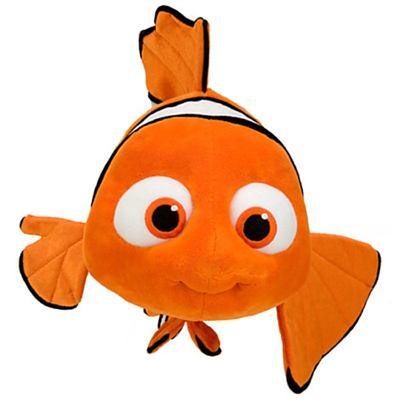 If you want to hold something, I thought it might be cute to carry around a cute Nemo toy since Nemo and Dory are friends. You can get one pretty much anywhere online (the Disney store, Amazon, Wal-Mart, your nephew's bedroom, etc). I like this one: Disney Finding Nemo 16″ Nemo Plush Disney ($22.25). This could also make for a really good group costume–you and your bestie could be Dory and Nemo.
If you're really hard core about Halloween like I am, you'll get in to things like face and body paint to really hit a costume home. Dory is blue ALL over–so why shouldn't you be if you're doing the costume? You could buy a jar of Handy Art Face Paint, Blue  ($12.08) and slather it on any exposed skin (your hands, neck, face if you don't do the makeup tutorial above).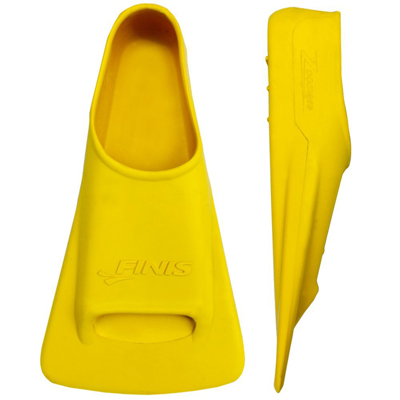 Lastly, Dory is a fish so she has fins–DUH! In fact, she has yellow fins. So if you want to be totally recognizable as dory, you can wear these Finis Yellow Zoomers Gold ($21.58) on your hands all night. It might be hard to hold drinks–but hey, a really good costume is worth it.
[Photo: Disney Pixar Facebook]
More 2016 Halloween costume ideas:
Eleven from Stranger Things Halloween Costume
Rey from Star Wars Halloween Costume
Dauntless from Divergent Halloween Costume
Barb from Stranger Things Halloween Costume
Ghostbusters Girls Halloween Costume
Beyonce Lemonade Halloween Costume
Harley Quinn Halloween Costume
Rihanna With Wine Glass Halloween Costume
Sandy from Grease Halloween Costume
Kylie Jenner Halloween Costume
Wonder Woman Halloween Costume
SheFinds receives commissions for purchases made through the links in this post.