We all adore our Converse sneakers–more than anything. They're potentially our all-time favorite pair of sneakers. They go with absolutely everything and are so easy to just throw on and go. They're a wardrobe essential!
Unfortunately, we all know how easy it is for our beloved high tops to look a little worse for wear. They tell the story of all life's crazy moments—from that time you accidentally spilled mom's homemade spaghetti sauce all over the kitchen, to last week's soggy trek through the city when it unexpectedly started to downpour. While all those memories are well and good, we'd rather them leave lasting marks on our minds, and not our pretty white shoes.
But, stuff happens. You'll be happy to hear that all hope is not lost. You can indeed return your Converse back to the pristine condition that you bought them in (or pretty close to it).
Below, we've created an easy to follow, guide with multiple options for cleaning your adored Chuck Taylors, so you don't have to splurge on a new pair just yet. Even if you've had the same pair for years, it is possible to give those babies a good cleaning and make them look fresh again!
In order to get the best results, you'll first want to remove the laces from your sneakers for easy access around the eyelets and tongue. Run your shoes under warm water to get them damp and then shake off any excess water. Now is where it gets interesting. From here, there are a variety ways you can choose to clean your shoes.
1) Powder Cleaners
Use a powder detergent and mix it with a small amount of warm water in a bowl to create a paste-like substance. Using a toothbrush, start to scrub the paste in a circular motion onto all of the dirty areas. When you finished, rinse the shoes with warm water and towel dry them. You can repeat the process over again if the stains are still apparent. When you're content with the results, leave the shoes out to air dry. Viola! Squeaky clean.
2) Toothpaste
Surprisingly, the same hack for cleaning faux gold jewelry applies for cleaning your white sneakers. Just a little bit of toothpaste should do the trick. Make sure to use a non-gel white toothpaste. Colored toothpaste may further stain your shoes, FYI. Work the paste into the dirty spots and let it sit for 10 minutes or so. Once the time has passed, wipe the toothpaste off with a damp towel. If you're in a rush, this is an easy, quick way to get the job done–and well, might we add.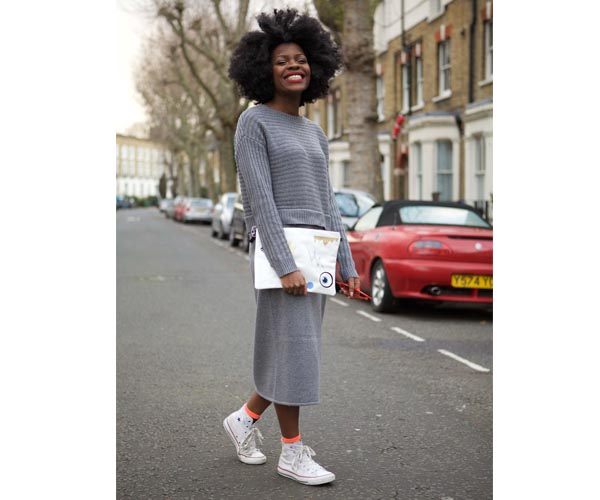 3) Baking Soda & Vinegar
You can also use baking soda and vinegar to bring your Converse back to life. Combine one tablespoon of white vinegar and one tablespoon of baking soda with the same amount of hot water until you achieve a pasty substance. Grab that handy cleaning toothbrush again to massage the paste into the fabric. Once you're done working the paste all over the entire shoe, leave them out in direct sunlight for a couple of hours. The sun activates the baking soda and helps bleach the fabric to whiten it even more. When you feel like they sat long enough, rinse the shoes in warm water and towel dry them. Lay them back out in the sun if possible so they dry out completely.
4) Washing Machine
If you're feeling a bit lazy, you can opt for throwing your Converse sneakers straight into the washing machine. Place them alone in the drum, without any other garments. Use half a cup of detergent, but avoid adding bleach so that the pattern of your Converse stays intact. Wash on a cold cycle. Although it might be tempting, refrain from putting your Converse in the dryer–at all costs. Not only will they bang up the inside of the machine, but they could shrink.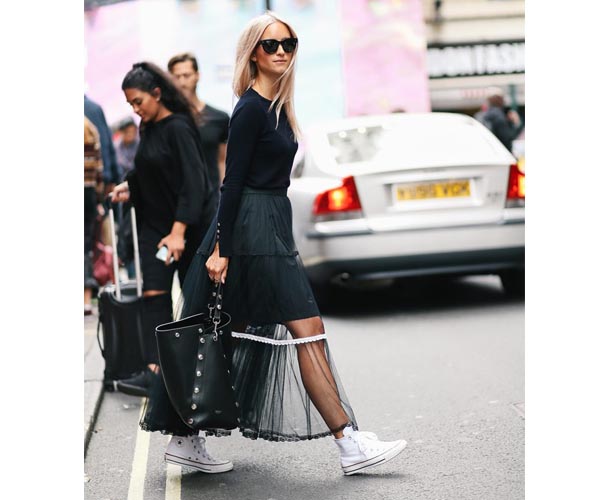 5) Dishwasher
While this last method may come as a shock, you can actually clean your Converse in the dishwasher! Make sure the washer is completely empty of all kitchenware before putting them in. Just place the shoes on the top rack of the machine, face down. Start the cycle and let the machine work its magic.
For more DIY tips, check out how to unshrink your clothes and clean your Stan Smiths on SHEfinds.com.