After a long winter, saying that we're all excited to finally be able to show a little skin again is a huge understatement. Hello skirts, and shorts, and, let's not forget, backless dresses and off-the-shoulder tops! 'Tis the season for tastefully-revealing dresses and open-back tops, and you know what that means–time to whip out your strapless sticky bra again!
If you're like me, and most women on this planet, you probably have a love/hate relationship with this popular (but more functional) style of lingerie. Sticky boobs are annoying, but an essential item in a woman's closet. The adhesive bra comes in handy when we have events like parties, weddings, and date nights, and an open-back top or dress we want to wear. If you're against going braless because you need some lift and coverage (which we totally understand) sticky bras are a must. However, the bra is not always practical. It's always a guessing game of whether or not a sticky bra will stay securely attached and comfortable for the entire day (or night, that is).
The main downside to the style is sticky bras kind of lose their stickiness and start to feel gross after a single wear or two. It's a risky decision to make to wear a less than perfectly sticky, sticky bra. It increases your odds of an upsetting potential nip-slip. We all know that very few things are more embarrassing than having one cup pop off in public, out of nowhere. *Cringes* Chances are, we've all unfortunately fallen victim to this.
But of course, not all of us feel like running out to the store to buy a new sticky bra after every single time we wear one. No one has the time, or money, for that. So, what's the magic hack to reusing one and making your sticky bras, you know, stick again? The simple solution lies in your cleaning methods. Once and for all, here's how to clean a sticky bra and actually keep it that way.
The secret to getting back that sticky bra back in tip-top shape? It involves just three simple steps and using soap and water. Yep, it's that easy! Just was your bra with soap and water–no towel or cloth necessary, here.
1) After every use, rinse the bra cups with warm water and a few drops of hand soap. This washes off all of your skin's oils and residue from the sticky bra.
2) Scrub off any dirt that got caught in the bra adhesive. This step should make your sticky bra reusable for, well, ever! Who would have thought that just adding water could make your bra way more adhesive again!
3) After you rinse your adhesive bra with soap and water, let the cups dry overnight. Put them on a flat surface, like your dresser or a countertop, with the sticky side up. If yours came in a little plastic package when you bought it (and you're responsible enough to have saved it this whole time), you can even leave the packaging open and let the boob covers dry in there. You don't need to worry about wiping off any excess water or drying it with a towel, so resist the urge to pat them down.
Like magic, the bra dries on its own and eventually returns to its former sticky glory. Your sticky boobs will be ready to wear with that backless dress you've been saving for GNO, in no time! And now they're guaranteed to stay put during an entire night of dancing. It'll feel like a whole new bra–no more worrying about potential nip slips!
If you haven't hopped on the sticky bra bandwagon yet (how??), or if you're in search of a new one, check out some of our favorite picks.
Nordstrom Ultra Light NuBra ($40)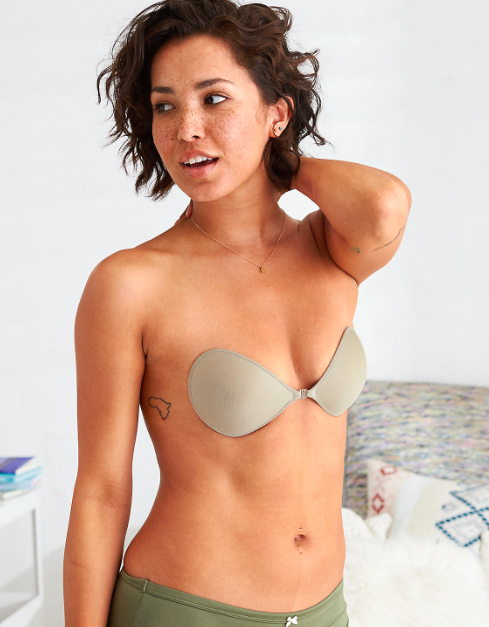 Aerie Backless Bare Bra ($36.50)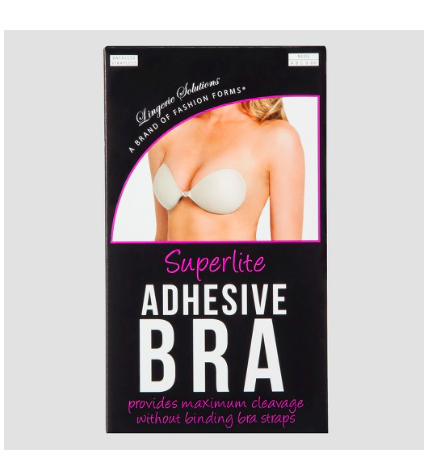 Fashion Forms Women's Superlite Adhesive Strapless Backless Bra ($16.99)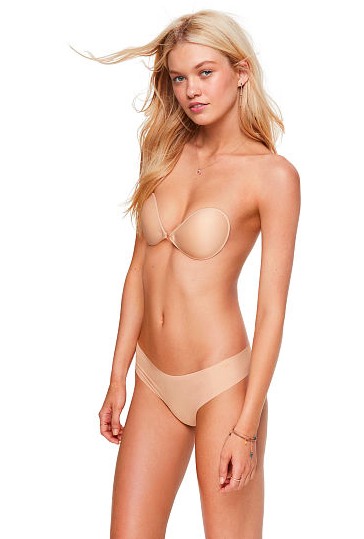 PINK by Victoria's Secret Backless Bra ($24.95)
For more DIY how to's check out how to clean your UGG boots, clean your Converse sneakers, and unshrink clothes at home, on SHEfinds.com. Your wallet will be happy with these cheap, money-saving life hacks.
SheFinds receives commissions for purchases made through the links in this post.