Did you know a placket is the opening or slit in a dress or blouse that allows clothing to be put on or removed? A placket is often used to give a shirt dress that crisp, dressy appeal. Every fashion girl knows that a neat, clean button down shirt is a closet staple. But what happens when you button a shirt and the placket puckers, creating gap between the buttons?
Not only can this look sloppy, but it can expose your bra. This is especially a problem for woman with bigger busts. There's a few was to make sure that your favorite button down looks nice and neat. The first thing you need to do is carefully iron the shirt. The prefect press with result in fewer gaps.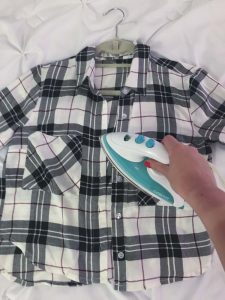 If ironing alone doesn't work, it's time to take out the fashion tape. Apply a piece of double-sided clothing tape to the placket between the buttons. I'm a fan of Hollywood Fashion Secrets Fashion Tape ($5.99). It's cheap and you can find it at most drug stores.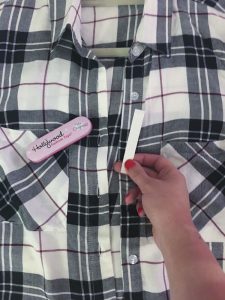 Of course, you can always that the top to the tailor but I found that fashion tape was the quickest and easiest way to fix button gaps.
Want more fashion hacks? Check out the best way to store your bras and how to prevent pit stains on white t-shirts .