Ladies with larger thighs, stop spending your summers sweating it out in jeans (or trying not to flash the whole world when you wear a dress or skirt so you can stay cool while involved in something active). No matter how thick your thighs, you can wear shorts.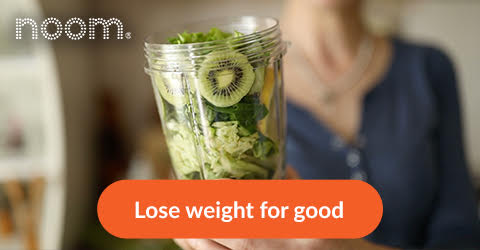 We'll say it again: you can wear shorts! We recognize that embracing the skin you're in isn't always easy, but truth be told, you'll never feel comfortable in shorts if you don't feel comfortable with your body. So before your try any fashion secrets, tips and tricks, it's important to do the hard work of accepting your body… or making lifestyle changes that will help you look the way you want. If you're having trouble with either, we recommend heading over to Noom to learn more. Not only do they have a program based in science that helps people lose weight, but they also help shift attitudes and mindsets, so whether you lose one pound or one hundred pounds, you can feel good about yourself… yes, even in shorts!
Okay, not back to the fashion! The secret to pulling off shorts if you thighs aren't toothpicks is simply drawing the eye away from your thighs and to the parts of your body you'd rather highlight by choosing the right pair of shorts. Here's what to look for in your next purchase:
How to Look Good in Shorts with Big Thighs
Large Leg Holes

When it comes to slimming your upper legs, our biggest piece of advice is to look for shorts that aren't super form-fitting. Basically, if they touch your skin, they're too tight and will make you look bigger than you are. Wide leg or relaxed fit shorts are your best bet, because in addition to their general slimming effect, they won't be so tight that they accentuate your body's ever bulge. Just don't go too big, as this can also add bulk to your body. As a general rule of thumb, look for a pair of shorts that are just wide enough to not touch your thighs–not significantly bigger.
Side Slits

You can get a similarly slimming effect by choosing shorts with side slits. Again, the extra space for your legs provides you more room to move without fabric clinging to a part of your body that you'd rather minimize. And side slits are such a small details that they won't really change the overall look of your outfit. If you decide to go the side slit route, it might be a good idea to throw on a pair of boy shorts underneath so that everything that's meant to be private stays that way.
Pleats

If you're looking for something more dressed up than baggy jean shorts, try a pleated pair. They offer the same roominess as relaxed fit or wide leg denim, but in a much more dressed-up way. In fact, with the right button-down shirt or other blouse, pleated shorts can be appropriate workwear in many offices. When you wear them, you'll find that the pleats actually move with your body, adjusting and adapting to the way it changes as you walk.
High Waist

High-waisted shorts are another great, figure-flattering option.The cut will accentuate your curves and make you look slimmer overall by drawing the eye to your waist, not your thighs. And, by elevating your waist, they'll make your legs look longer and slimmer–which is nice for everyone but a particular bonus for shorter ladies. The other benefit of this waistline is, of course, comfort. Hands down, we'd rather not spend our day worrying about whether we're showing a bit too much of our behinds.
Beads or Other Embellishments

For many women, the reason that shorts feel like a no-no is their tendency to ride up in the crotch… over and over and over. When you have bigger thighs, this issue is only amplified. Use gravity to your advantage by picking a pair of shorts that have heavy-ish embellishments like beads that will help weigh them down and stay in place.
The Right Length

While shorts are all, to some degree, short, that word can mean something very different when it comes to different designers–or even different designs in the same store. Choose a length that's most flattering to your body by making sure the hem hits either above or below the widest part of your thighs. The eye will automatically go to wherever your shorts cut off, and you want to make sure that's not a part of your body that you're actually trying to hide.
The editors at SheFinds wrote this article in partnership with Noom.