If you're one of the *many* people who became obsessed with Pokémon Go this year (or maybe you're just a fan of the original Game Boy game?), a Pikachu Halloween costume should be on your radar this fall. (Psst–don't forget that the next Pokémon Sun and Moon games are coming on November 18!)
The Pikachu costume for girls is actually kind of cute–grab a yellow dress, bodysuit or jumpsuit, maybe add a tutu just for fun, do some face makeup, and get a Pikachu costume accessory set from Amazon (they're for kids, but the accessories fit adults, too).
I've gone ahead and found a bunch of the products you'll need for the costume online for pretty cheap–and added some additional flare that other costume sites haven't thought of like Pikachu slippers. I also found an INSANE Pikachu Halloween makeup tutorial on Youtube. This is totally optional, but I was kind of mesmerized by it, so I put it in. Okay, here goes:
Pikachu Makeup: 
This Pikachu makeup tutorial is so intense–I'm not assuming that everyone will be able to pull it off, but maybe you'll get inspired to do something at your makeup ability level. The key is the red round cheeks, big black eyes and black upside triangle nose. More on that later!
Pikachu Dress: 
They sell cute little dresses that are Pikachu-inspired online, like this Rubie's Women's Pokemon Pikachu Costume Dress ($15). The quality probably isn't GREAT, it's sort of like the regular pre-packaged Halloween costume quality–but if you want to wear something that looks officially Pikachu and you're trying to look cute/sexy, it's a good option.
Pikachu Onesie: 
If you're going for something more comfy for Halloween, this Belife Christmas Costumes Animal Onesie Sleepsuit Pajamas Cosplay ($30) can't be beat. It's totally silly and definitely not one of the typical "sexy Halloween costumes," but it is kind of amazing.
Pikachu Bodysuit + Tutu: 
Here's a third way to interpret the costume — start with a bright yellow Scoop Neck Sleeveless Stretch Cotton Jersey Unitard Bodysuits ($22.40)…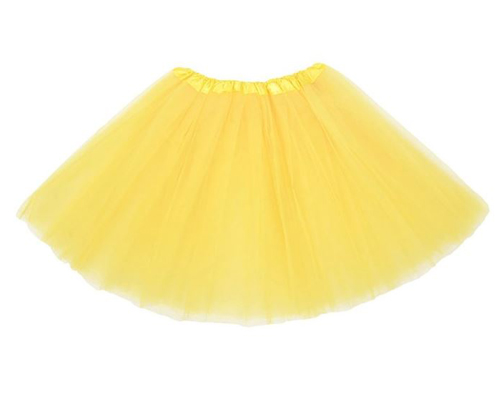 Then add a yellow tutu like this one: Simplicity Women's Classic Elastic ($12.99). I found this costume idea on Pinterest and I think it's adorable–any excuse to wear a tutu, right? I don't know what a yellow tutu has to do with Pikachu… but the idea is just to get in head-to-toe yellow.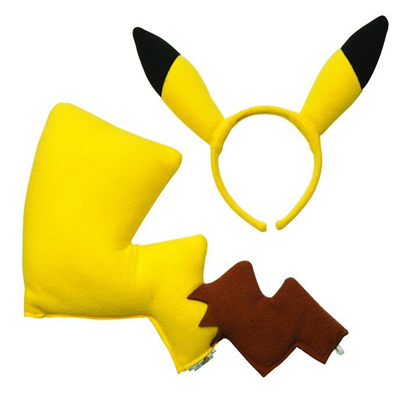 The next step are some Pikachu accessories, which really bring the costume to the #NextLevel. This Rubies Pikachu Costume Kit ($7.74) includes a headband with Pikachu ears and a tail. Whichever outfit you choose above–the Pikachu dress, onesie or bodysuit and tutu–will work with the costume accessories.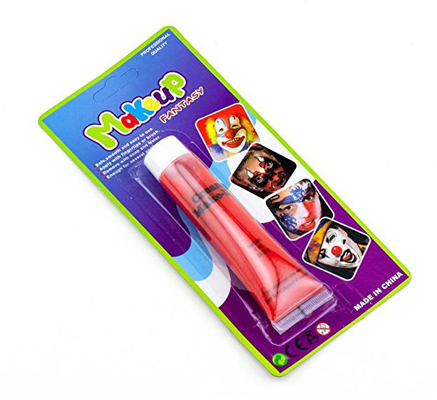 Back to the makeup–no matter how intensely you decide to do it, you'll definitely want the bright red cheeks. You can buy red face makeup like this Adorox Red Cream Face Painting Makeup Halloween Clown ($5.49) and smear it in two perfect circles on your cheeks.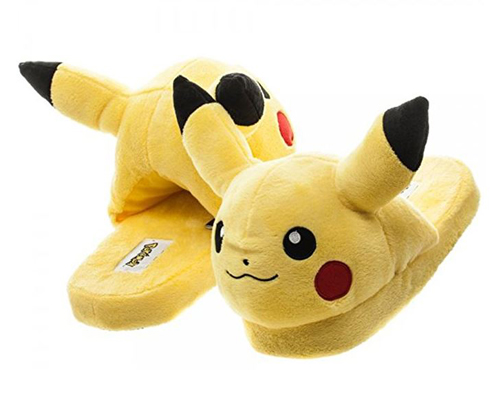 Okay, this is a totally optional but I think fun part of the costume–Pikachu slippers! These BioWorld Unisex Pokemon Pikachu Plush Slide Slippers ($26.99) are so warm and comfortable. They beat wearing uncomfortable yellow heels.
So, there you have it–all the ingredients for the perfect Pikachu Halloween costume recipe. Let us know: will you do this costume??
More 2016 Halloween costume ideas:
Eleven from Stranger Things Halloween Costume
Rey from Star Wars Halloween Costume
Dauntless from Divergent Halloween Costume
Barb from Stranger Things Halloween Costume
Ghostbusters Girls Halloween Costume
Beyonce Lemonade Halloween Costume
Harley Quinn Halloween Costume
Rihanna With Wine Glass Halloween Costume
Sandy from Grease Halloween Costume
Kylie Jenner Halloween Costume
Wonder Woman Halloween Costume
Ravenna From Snow White Halloween Costume
Mr & Mrs Smith Halloween Costume
Snapchat Crown Filter Halloween Costume
Dustin Stranger Things Halloween Costume
SheFinds receives commissions for purchases made through the links in this post.