It's not beach season quite yet (at least for those of us on the East Coast), but we can hear the ocean waves calling our name already! Spring Break is just a little more than a month away (yes, we're counting), so it is time you start thinking about the hottest swimsuits that will be trending this spring and summer. Or, if you are lucky enough, perhaps you have an upcoming trip where warm weather and crisp, blue waters await! Whether you have an upcoming vacation, or just need to prepare for when the season turns, here are some expert tips on how to pack your swimsuit in your luggage for your next getaway:
1. Bring Multiple Swimsuits
The number one tip for packing swimsuits is to always bring more than one. This tip is crucial if you're going to a tropical destination or staying at a beach resort. Swimsuits can take forever to dry after rinsing them, so you definitely want to have other options to make sure that you're not wearing a soggy, mildew-ridden bathing suit from yesterday's beach trip. At a minimum, pack two swimsuits, but we suggest three or four–because it's nice to have options, right?
2. Stack Molded Bra Cups
Many bikini tops, and even monokini tops, have molded bra cups. These types of bathing suits are perfect for breast support, and they also have a stylish, retro vibe. To prevent ruining the structure or taking up too much space in your luggage, stack your molded cup bikinis so that they won't get crushed in your suitcase. You can even stack them mixed in with your bras.
3.  Pack A Swimsuit In Your Carry-On
Airports can get pretty hectic during vacation season, and it's quite possible that your checked bag can get lost or delayed somehow. Hopefully, this doesn't happen to you, but it's always good to be prepared! With a swimsuit in your checked bag, you'll be able to hit the beach, or be poolside, in a matter of minutes if your checked luggage gets delayed.
4. Pack Wet Swimsuits In Ziploc Bags
Along with your swimsuits, pack a few clean, empty Ziploc bags to use when you're returning from your trip. When your vacation is over and your packing your bag, use these Ziploc bags to store them so they won't get the other items in your suitcase wet. Amazon also sells these amazingly cute Wet Swimsuit Bags that are eco-friendly and can double as a clutch when you're on the beach!
Now that you have a few tips on how to pack your swimsuits, here's some inspiration for shopping for them! Trust us, everyone will be wearing these trendy swimsuits this spring an summer: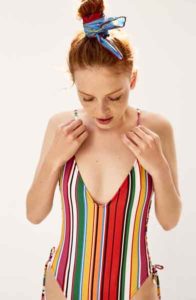 Zara Striped Swimsuit With Side Knots ($12.99)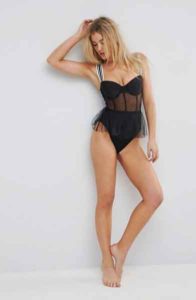 ASOS Elastic Trim Dot Mesh Tulle Cupped Swimsuit ($56.00)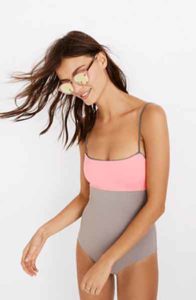 Madewell x Tavik Scarlett One-Piece Swimsuit ($158.00)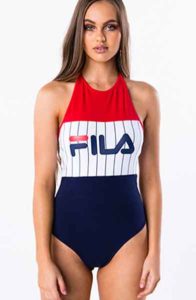 Fila Fia Bodysuit ($49.00, originally $100)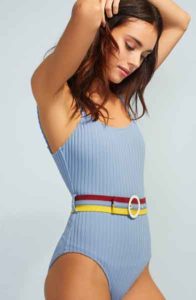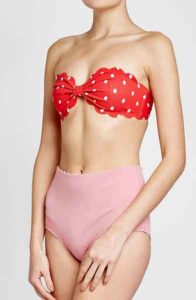 [Photo: Gal Meets Glam]