Ladies, you can never really have too many pairs of jeans. After all, there are so many pairs of denims out there that it's pretty much impossible to own every single jean style. But one that definitely needs to be in your closet—a fun pair of embellished jeans, of course!
Now you may be a little apprehensive if you're used to rocking those perfect blues–sans embellishes–all the time. Don't be! Sometimes you just need a little extra flare. Plus, there are so many ways that they can be styled to fit any occasion you have in mind. And if you need a little outfit inspiration, here are a few embellished jeans to shop ASAP and ideas on how to pair them with just about anything in your closet. You're welcome.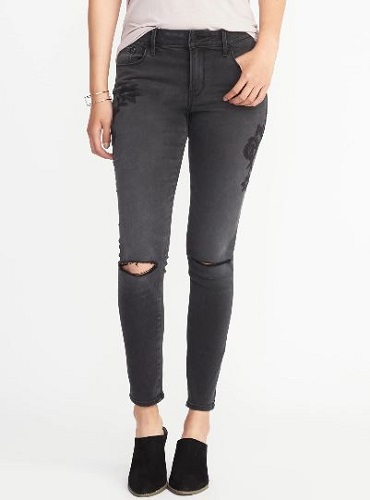 Mid-Rise Embroidered Rockstar Jeans for Women ($24,97, down from $39.99)
Looking for a subtle embellishment. These Mid-Rise Embroidered Rockstar Jeans from Old Navy are for you! These black jeans feature unique patches at the thigh and back pockets that are stylish and not too over the top. You can rock them with a solid top or blouse and mules to either dress these pants up or down.
1882 Denim Pearl Detail Skinny Jeans ($49)
These standout denims are stepping it up a notch, as the hips are dusted with pearl and metallic beads to really give the jeans some style. Since the embellishments are centered around one are, you have so many option when looking for wardrobe staples to match with these jeans. A few ideas that come to mind are pairing these with a cute button down shirt or silk top. Just add some heels to upgrade the look.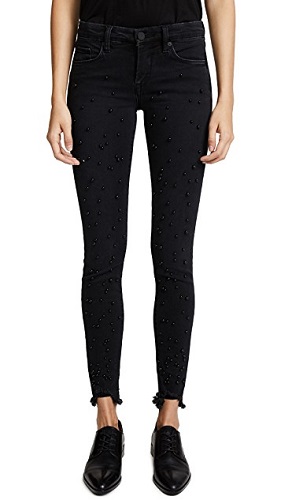 Blank Denim Star Sign Jeans ($75)
Go for full on embellishments! These Blank Denim Star Sign Jeans make a bold statement that is completely eye-catching to any onlookers. The beaded detailing is beyond gorgeous! And the darker denim fabric just makes them pop even more. You should go for a solid top to rock with these stunners. After all, the jeans are the statement piece.  So short sleeve shirts and pullovers are a safe bet on a chill day. Basic black will always match no matter what. You can also go for a silk blouse if you really want to go for glam.
Jag Jeans Long Straight Ankle Jeans ($84)
When the weather starts to warm up, these Long Straight Ankle Jeans from Jag Jeans should definitely be in your wardrobe rotation. (And that really depend on shoe choice because sock booties look good with the ankle cropped.) These have embroidered hems that are sure to have everyone complementing you whenever you wear them. Plus, there are so may ways that you can style these denims. Play around with different staples in your closet, but if you need a go-to outfit grab that lace peasant top you have in the back or and top that has bell sleeves and pair with these jeans. As for shoes, you really can do no wrong.
[Photo: The Viva Luxury]
SheFinds receives commissions for purchases made through the links in this post.