You found a new pair of jeans that fit you like a second skin and are the perfect length — congratulations, that's definitely not an easy feat. But now comes the second greatest denim challenge: washing and cleaning them in a way that won't ruin their shape, stretch your jeans beyond repair, or shrink them to doll-like proportions. Even if you've ruined your fair share of jeans in the past (don't worry, you're not alone), it's completely possible to make this the pair that lasts you for years — with a few good tips.
The good thing about denim is that it can hold up and take more wear and tear than your average blouse or cotton skirt. You may be shocked when you find out how often you can wear a pair of jeans without washing them. It isn't necessary to wash jeans after every wear and some experts say you can get away with wearing denim without it ever seeing the inside of a washing machine for two months or longer. In addition to not over-washing your jeans, here are 5 simple ways to wash your jeans without shrinking them.
1) Turn Jeans Inside Out And Zip Them Up
Taking good care of your jeans means ensuring them don't shrink or lose their vivid shade of blue in the wash. Always turn denim inside out before washing it to prevent soap and water from fading its natural color. Keep your jeans from ruining other clothing in the same cycle by zipping every zipper and fastening all buttons and snaps so that they don't snag more delicate fabrics while in the wash.
2) Use The Gentle Cycle And Cold Water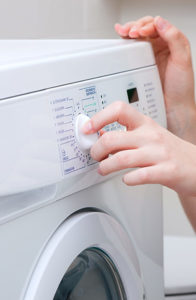 It may seem like a tough pair of jeans requires rough handling in the wash, but the opposite is true. Since denim doesn't absorb odors and debris the way other fabrics can, turning your washing machine knob to the gentle cycle is the way to go. And water temperature will make or break your jeans — always use cold water. Hot and even warm water will shrink jeans fast.
3) Skip Detergent And Add White Vinegar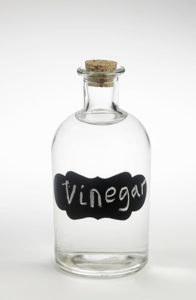 By now you've heard a dozen times that jeans rarely get super dirty. Unless yours have caked-on debris or smell funky, you can skip regular detergent, which can be harsh and cause fading, and stick with one cup of white vinegar, which can be added to your wash. The vinegar is a natural cleanser that will respect your fabric and its hue.
4) Hand Wash Your Jeans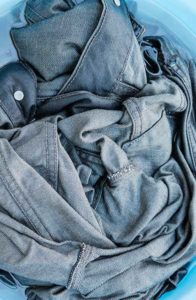 Of course, if you have a little extra time and a free sink or tub, one of the best ways to make certain your jeans come out of the wash the exact way they went in is by hand washing them in cold water with nothing more than a cup of white vinegar. Let them soak for 15 minutes.
5) Hang Dry Your Jeans
Finally, we come to the number one most important rule to keep in mind when it comes to jeans: never, ever place them in the dryer — not even for a five-minute tumble (although many will disagree and say a few minutes on a low setting is okay). If you don't want to risk it, and who can blame you, simply hang your jeans to dry in a warm place that is not in direct sunlight.