While we're not quite ready to put our sweaters, coats, and snow boots, into storage just yet, we can still start daydreaming about shopping for our favorite spring outfits. We've got our eyes on a pairing that we've seen a number of  times on celebrities like Kim Kardashian, Kate Mara, and Selena Gomez: the T-shirt crop top and pencil skirt. This goes to show that the easy-to-do outfit combo is actually super flattering for all shapes and sizes. And the pencil skirt usually sits high on your waist, so you don't have to worry about starting a steady schedule of ab work. (Phew!) Whether you're looking to wear this look during the day or for a special evening (Valentine's Day is just around the corner), we show you the different ways on how to wear it:
1. Dress it up with heels. This look is basically, well, two basics put together. So that means it can go the casual route pretty quickly. Pairing your crop top and pencil skirt with a pair of neutral-colored heels, like Kim Kardashian's nude strappy heels, will keep your outfit classy without looking like you're ready to hit da club. (Yup, da club.)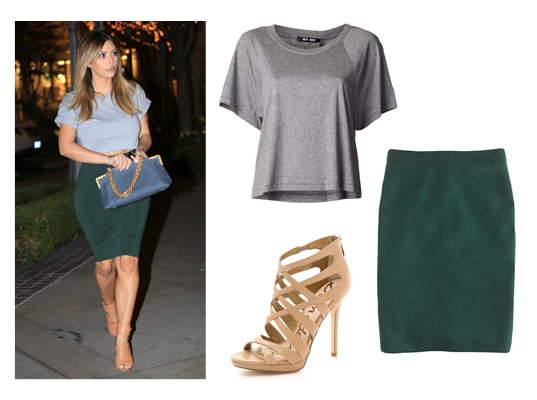 Get the look: BLK DNM T-Shirt 38 ($75); J.Crew No. 2 Pencil Skirt in Double-Wool Serge Wool ($130); Sam Edelman Erin Crisscross Sandals ($130)
2. Play with fabric or prints with your pencil skirt. Another reason why we want to wear this outfit through spring is because T-shirts are just so darn comfy. But if you're looking to take this look into the evening, make a statement with your pencil skirt. Kate Mara dons a head-to-toe lace look but we prefer to keep the top in a good ol' jersey knit. Then, you can wear your lace skirt with a blouse or sweater next time. Ta-da! You got yourself at least two new outfits ideas.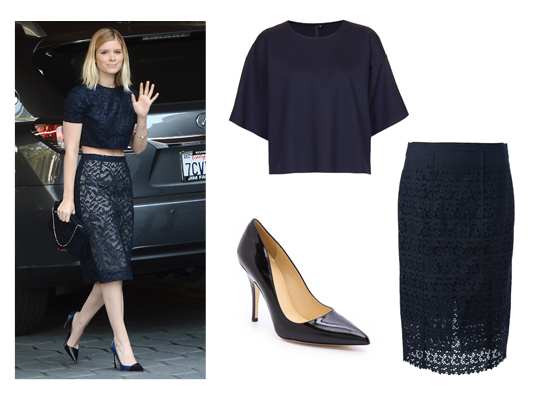 Get the look: Boxy Crop Tee by Boutique ($64); Nina Ricci Broderie Anglaise Pencil Skirt ($896.72); Kate Spade New York Licorice Pumps ($328)
3. Keep a balance between what you cover up and reveal. Have you fallen for a long-sleeve crop top instead? That'll still do the trick! To avoid looking oddly proportioned with modesty, take a tip from Selena Gomez and show just a hint of skin with a high-slit pencil skirt. It's all about balance. If you were to wear a mini-skirt with this look, it would still look way too revealing. Like Mily Cyrus-level revealing. And we don't want that.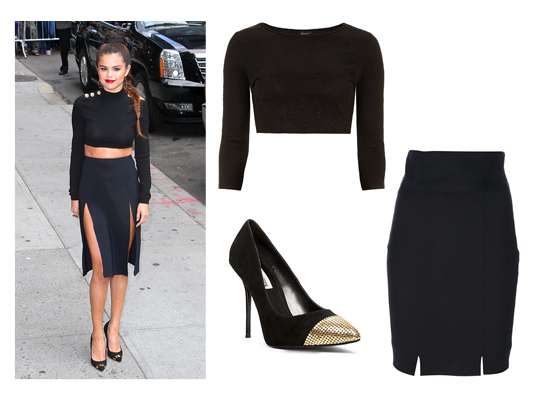 Get the look: Dorothy Perkins Black Cropped Top ($21, down from $35); DSquared2 Cut-Out Pencil Skirt ($186.26); Steve Madden Deceptve Heels ($129.95)
[Photos: Splash]
Don't forget to check out: how to wear the oversized sweater trend, layered necklaces, and how to make your closet Pinterest-worthy.