We own so many jeans we've lost count. Denim is our daily go-to for work, weekend and nights out. But Mom Jeans confuse us. The high rise can be tricky to pull off. We love that the waist comes above our bellybuttons (near or on our true waistlines) because that makes our legs appear longer and creates a beautiful hourglass shape. There's no butt or belly peeking out. Still… do they look flattering? Do they make our bellies look large?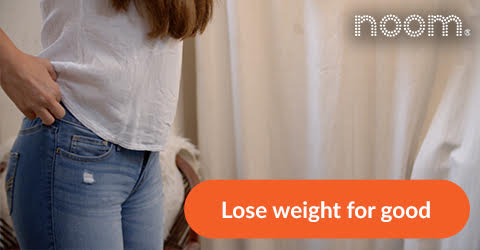 How to Wear High Waist Jeans
The only pooch a woman really wants to see a cute dog. As for the one that makes her jeans feel tight? It's aggravating. And it's unhealthy. Do all the crunches and planks you can muster but they won't necessarily whittle your middle. Sure you'll have strong abs muscles but they're still hidden under a layer of fat. Working towards an overall healthy lifestyle is a sure bet for feeling good in denim.
An app like Noom keeps you accountable for food and exercise choices. But it's not a quick-fix kind of program–those results usually don't last very long. Instead of simply telling you what and when to eat or how often to exercise, Noom focuses on changing patterns of thinking, habits and behavior so you see results for the rest of your life, not just for a month or two. You'll never second guess a pair of high-waisted jeans again.
Once you have a mind-body plan in place, it's time to shop for jeans. High waist denim shouldn't be hidden under a baggy, boxy top. The point is to show off your curves and your waistband! For work days choose tops that can be tucked in (all the way or just partially in the front). We love a tailored, button down shirt with bold stripes or a fun pattern. Top it with a cropped leather jacket or edgy moto style. Pick up on the jacket with suede booties or go totally opposite with a pair of sneakers.
A high waist begs for a belt. This is a case of fashion over function because you don't actually need help keeping your pants up. That's one reason we heart high-waisted jeans over low-rise denim any day! On the weekends pair a neutral shirt with a belt that gives a pop of color. We also love a wide leather belt with a slimmer fitting t-shirt. Play off the belt with a wrapped leather bracelet encrusted with natural stones. Flats would look great, but make sure your jeans don't drag on the floor. It just looks messy but can be easily fixed with a visit to a tailor.
Take advantage of the leg-lengthening illusion you get from a high waist and add a pair of heels for a fun going out look. Try an oversized blazer and roll up the sleeves. Wear it over a tank top that has texture, maybe something silky. Keep accessories dainty to balance out the look. We're thinking layers of slim chains and long metallic earrings.
The editors at SheFinds wrote this article in partnership with Noom.