I'll admit that I'm not the most careful person when it comes to my skin. I have a very bad habit of never putting on sunscreen despite my alarming paleness, I've fallen victim to not taking off my makeup at night more than once, and I touch my face a lot when I'm stressed, tired or if it's a day ending in -y, so I'm sure there's more oil on there than is natural or healthy. It's something that I've wanted to change, but outside of washing my face every day and putting on an oil-free moisturizer on the days that I remember to, I wasn't really sure how to go about it.
I was recently given a tub of Olay Regenerist Luminous Overnight Mask ($24.64, down from $28.99), and, initially, I was skeptical, mostly because I didn't realize that there was a specific way to use it. I thought it was just something you slapped on your face like those DIY avocado face masks that I always end up eating. I was given a full-blown tutorial on how to use the stuff upon receiving it, and since then, I've used it every night. I'm totally obsessed with it–it makes my skin feel soft and smooth and gives me a glow I didn't have before. However, when I told a few people that I started using a night cream, they got particularly sassy with me. I got a lot of, "You're way too young to be using a night cream," and a little bit of, "Do you secretly have the skin of a grandma and/or are you a wizard?" It got me thinking: am I really that off-base in wanting to use a night cream at 22 years old? I talked to NYC-based dermatologist Amanda Sergay to get the lo-down on what to look for in a night cream, and whether it really should be reserved for an older crowd:
SHEfinds: What's the proper way to use a night cream?
Dr. Amanda Sergay: After cleansing, pat your face dry so it is still a little moist. Then apply a night cream to your face and neck. Ideally, the cream should be applied about 30 minutes prior to getting into bed. If the night cream contains retinol or retin-a, however, you may need to start with a pea-sized amount every other night and build up from there.
SF: What are the long term and short term benefits of using night creams?
AS: Night creams containing retinoids or retinol, glycolic acid or salicylic acid can have antiaging properties. As they increase cell turnover, these creams can improve fine lines and wrinkles, sundamage, and to some extent, pore size.  Similarly, antioxidants like vitamin C, vitamin E, green tea, coffee berry and niacinamide are helpful to reduce free radicals for overall skin health. Night creams with essential oils like argan oil can hydrate skin, with improvement of dryness and flaking.
SF: What should a woman consider when selecting a night cream?
AS: When picking a product, consider your skin's needs and consider your budget. Some ingredients such as growth factors and hyaluronic acid are more expensive than others. Whether it's managing acne, uneven skin tone, wrinkles or if you are just striving for overall skin health, there is a cream for you. Talking through your skin type with your dermatologist can help you focus on what ingredients will give your specific skin the most bang for your buck!
SF: Is it a product that should be reserved for women of certain ages, or can anyone use it?
AS: Women of all ages can benefit from a night cream. Using a cream with some of the anti-aging properties I mentioned above makes sense anytime from your twenties on, in my opninion, especially if your skin has experienced damage from sun, cigarette smoking and other stressors.
SF: Do some formulas work better for women of different ages?
AS: As women age, our skin becomes drier, so creams that are richer in moisturizing properties can benefit older women. Younger women might find such creams too greasy.
See, everyone? Women OF ALL AGES can benefit from using a night cream! Shop my new favorite here: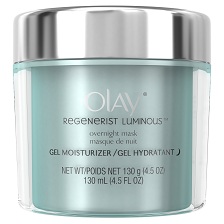 Olay Regenerist Luminous Overnight Mask ($24.64, down from $28.99)
And don't forget to check out: how to get a Louis Vuitton runway look for less, 5 denim trends everyone will be wearing and fringe pieces for spring
[Photo Shutterstock]