Fall is just around the corner (Summer, where'd you go?!) and for me that means it's time to start shopping for a new handbag. Right now the object of my handbag affection is Reese Witherspoon's Chloé Marcie leather satchel – but it carries a hefty price tag of $1,265. Being the good student that I am, I've decided to do a little fashion math to see if this covetable bag is worth it.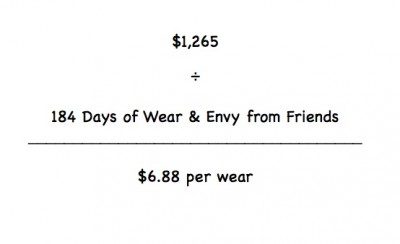 If you carry this bag for just 2 seasons – I'm thinking it's perfect for Fall and Summer – that's 184 days, the cost shakes out around $6.88 per wear, which really isn't bad. Think about it: it's less than your usual breakfast of a latte and scone. And, if you carry it multiple years (which, let's face it – you so will!) the cost per wear is even less. Looks like math is on our side with this one. Reese Witherspoon's Chloé Marcie Satchel is definitely worth the splurge. Class dismissed.
Justify other expensive purchases with more fashion math, and shop our guides to the best handbags.