You can tell Jessica Simpson is from Texas, because she definitely prescribes to the "bigger is better" mentality – even when it comes to her summer dresses. Simpson looked like a big ole fool, in our opinion, in these oversize, tent-like patterned maxi dresses.
What she did wrong:
Patterns are great and so are maxi dresses, but avoid combining the two. Either opt for a patterned cocktail style, or a solid colored maxi.
These massive dresses do nothing to show off her toned legs and large bust. She looks more like a sack of potatoes, than the sexy Daisy Duke-wearer we once knew.
What she should have done:
Instead of Look 1: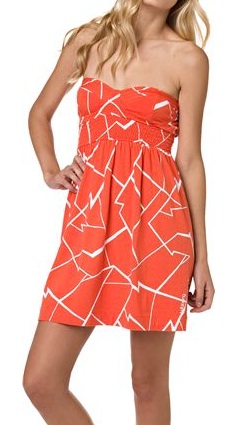 Since Jess clearly loves patterns and this bold, bright orange color, she should try a shorter, less-baggy style like this adorable, fitted Billabong Darling dress ($39.50).
If Jessica was a heartset on a maxi style, she should have gone with this bright, flattering ASOS Jersey Grecian Maxi Beach dress ($50.54) in a solid color.
Instead of Look 2:
Maxi dresses are great because they hide all sins. You don't need to look like you're swimming in fabric, though; try this Daftbird Racerback Tank dress ($124). It is super comfy yet still body con and somehow slimming.
Since we know Jessica loves her prints – including the green tiger concoction above – we found her this amazing Diane von Furstenberg Crinkle printed dress ($325). You just can't go wrong with a ladylike DVF dress.
See all of our sales and deals, plus all of the best summer dresses, maxi dresses, sunglasses, nude shoes, wedges, and clogs. Then check out our guide to this week's online sample sales.