Where do I even begin when introducing the always amazing and fabulous June Ambrose. For people like me who grew up in the 90s when she was styling all the biggest hip-hop musicians–Mase, Puff Daddy, Nas, Missy Elliot, just to name a few–she's essentially royalty.
These days, she still styles megastars like Jay-Z and Mary J. Blige, but she's also added designer to her resume. She debuted a shoe collection on HSN last year, but is expanding her June by June Ambrose line with clothing and handbags this season to give consumers a true "lifestyle experience."
I was lucky enough to chat with June at a breakfast celebrating her launch earlier this week and here's what she had to say about her new collection:
SHEfinds: What went into the clothing line?

June Ambrose: We knew we were only launching a certain number of pieces, so I wanted them to be easy, great travel pieces that would be convertible and move well. There's a jacket with sleeves that come off so you can wear it as a vest or a biker jacket. There's also a dress that has a great glamoflauge for your tummy and the lining gives you that hold you need. I also felt a maxi dress was important.
June–wearing the June Ambrose Faux Leather and Ponte Knit Leggings with Zipper Detail!
SHEfinds: So this isn't a collection you just stamped your name on?

June Ambrose: Oh no! I'm wearing the pants–they feel so comfortable. I wanted the collection to feel like something I could drop my kids off in, then get on a plane in and still be stylish and comfortable.
SHEfinds: Let's talk shoes–do you have a favorite from the collection?

June Ambrose: Miley is one of my favorites. Alec is also one of my favorites.
A sneak peek at the June Ambrose Miley shoe.
SHEfinds: How did you name the shoes?

June Ambrose: I just thought about people I enjoy and love. The Brooke biker boot is named after Brooke Shields. The Alec after Alec Wek. Miley was wild and daring and rogue.
SHEfinds: Talk to us about some of your favorite details in the shoes.

June Ambrose: A lot of them have elastic, so it doesn't matter the size of your calves. No one will be upset. Even the heels, there's stretch in the ankle. So if you have a fatter ankle, you'll be fine. I thought about all of those details. We also do wide and we go up to a size 12, which is important. I thought a loafer was really important because I want me and my daughter to have shoes that we can wear together.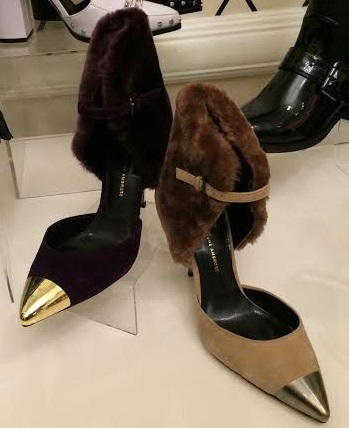 Behold, the faux fur-trimmed Alec heels.
SHEfinds: What's the one thing in your closet you can't live without.

June Ambrose: My eyewear, my sunglasses. And I need my thongs. I don't like visible panty lines.
SHEfinds: Last one–you're a working mom, how do you do it?

June Ambrose: I wake before the quake. I have to be up before my kids. That's my time to collect myself and make them breakfast. It makes me feel like I'm being a responsible parent as I go about my day making people glamorous. You have to pace yourself–the reality is you're not going to get everything done in a day. And you should use your support team, wherever they can help or assist you. It's not a sprint, it's a marathon and I will pass the baton if I have to.
Click through the slideshow to shop June by June Ambrose, then be sure to tune in to HSN on September 12 when June will be officially introducing her new line on air.
SHOP JUNE BY JUNE AMBROSE NOW!
Don't miss Rihanna rocking Alexander Wang x H&M, SJP's gorgeous suede hobo bag and fall's best burgundy booties.