WHO ARE YOU? Do you crave the scent of ketchup, relish in the audacity of mustard, savor the sweet taste of mayonnaise…? We know you, condiment friends. And we know your preferred style of fashion accessory, too! Read on for your truth…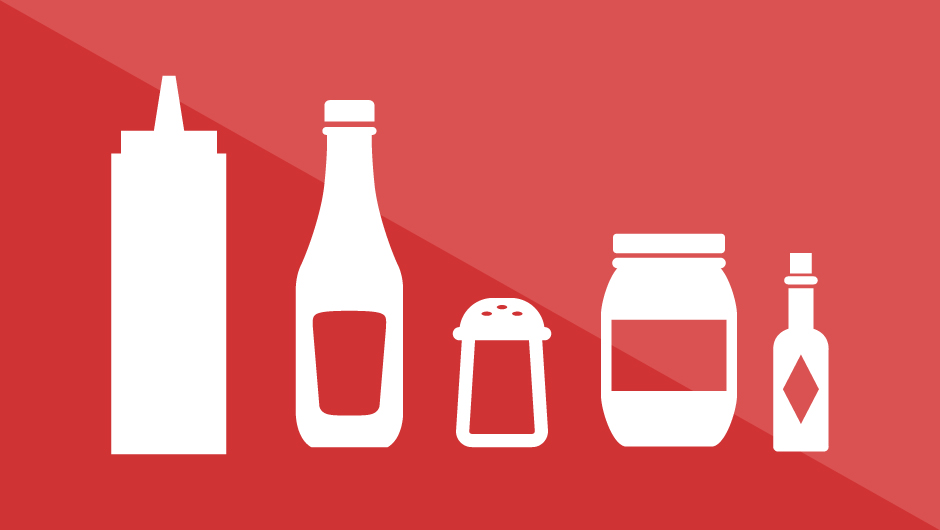 Ketchup
You're a people-pleaser who shies away from major risks and upsets. Adapting to change isn't your strong-suit, but you admire spontaneity in others. Colleagues and friends turn to you for stability, everyone can count on a ketchup-lover!
Your Go-To Accessory:
Ted Baker London 'Tiny Heart' Stud Earrings ($35)
Your taste in accessories is classic, just like your taste in condiments. You'll be sure to get a TON of compliments with these heart-shaped studs.
RELATED: Find Out What Your Lipstick Shape Says About You
Mayonnaise
Not everyone understands a mayonnaise fan, but you don't force the issue. You're confident in your choices and don't feel the need to seek approval. You're your own biggest advocate and that's cool with you.
Your Go-To Accessory:
Elliott Lucca 'Gigi Bon Bon' Leather Bucket Bag ($98)
This navy bucket bag is a departure from the classic style, but that's precisely why you love it. Your peers might not see the allure in your new accessory, but you really couldn't care less.
RELATED: Find Out What Your Belly Button Says About You
Mustard
Your feet are usually on the ground, but when your wild side comes out, you're unstoppable! You gravitate toward bold colors and house music. You definitely pledged a sorority in college.
Your Go-To Accessory:
Moon and Lola 'Vineyard' Personalized Monogram Ring ($68)
This monogrammed ring is so totally you, Miss Mustard! It's bold without being outrageous, yet it still has that air of timelessness abound it.
RELATED: Find Out What Your Thumb Length Says About You
Sriracha
You seek adventure at every turn — road trip, anyone?  You're a perfectionist and nothing is quite right until you've pushed it to its limit. Don't cross a Sriracha girl, they're fierce!
Your Go-To Accessory:
Lyssé Faux Leather Leggings ($108)
Leather leggings are appropriate for so many different occasions, which makes them the perfect accessory for the on-the-go Sriracha girl. They exude personality, just like you!

RELATED: Find Out What Your Foot Shape Says About You
Soy Sauce
You're incredibly detail-oriented, which can sometimes make you seem judgmental. You can be hard to read, but everyone ultimately loves and respects you. Plus, everyone wishes they had your kick-ass fashion sense.
Your Go-To Accessory:
kate spade 'idiom – born to fly' bangle bracelet ($78)
You're all about subtlety, so this not-too-flashy bangle is right up your alley. This might be the only pop of color your outfit gets, but that works for the soy sauce girl.
RELATED: What Your Favorite Type Of Pizza Says About You
Don't forget to check out: 10 Creative Uses For Old Tights and Is It Safe To Sit With A Laptop In Your Lap?
[Photo: Shelby Rodriguez]