Estranged PETA spokeswoman Khloe Kardashian (she seared ties with the animal rights group after that time Kim-got-flour-bombed for being a "fur hag") is still clearly conflicted about whether torturing animals for fashion is cool or not. The mogul just rocked a floor-length fur coat to Fashion Week with "Fxck Yo Fur" spray painted in red on the back: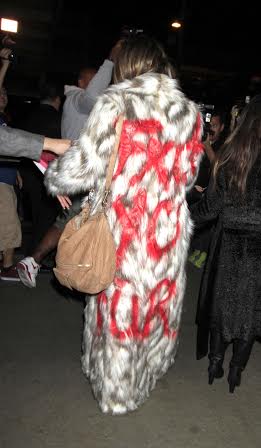 The sentiment is strong… but the message is mixed, as Khloe was also carrying a 100% sheep skin Givenchy Pandora bag with the outfit, and was photographed next to her sisters wearing very REAL, unmarked fur themselves (which Refinery29 pointed out).
So, does this make Khloe one of fashion's most outspoken animal activists or one of PETA's worst nightmares? Is she just trying to get even more needless attention (what are the Kardashians shilling these days? Some kids line or something??) or is she actually trying to make a statement? Sound off in the comments below. 
[Photos: Splash News]