LOFT is changing the game when it comes to clothing rental subscriptions and we are here for it. Introducing, Infinitely LOFT, a monthly service that will be available for women sizes 00-26! That's including petite, plus, tall and even maternity. Pretty amazing, right?
Infinitely LOFT will offer endless access to the brand's collection of apparel (including all of the major styles) for a flat monthly fee of just $64.95. For this price, customers will receive a box of three garments at a time, with unlimited box swaps and shipping/returns each month. And if you find a piece you love and just can't let go of, no worries, you have the option to purchase it at an exclusive discount rate of up to 50-80% off retail!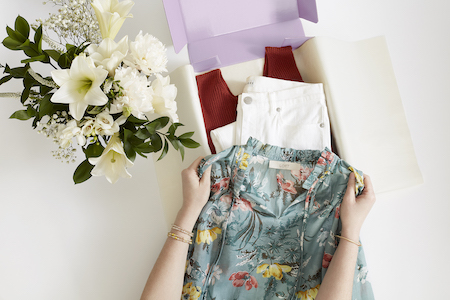 This means that you can consistently update your wardrobe with feminine, versatile pieces or even try new trends in a way that's easier than ever. Whether you need new styles for work, weekend looks or even both, Infinitely LOFT has got you covered. 
Laura Jacobs, Chief Marketing Officer of LOFT, Ann Taylor and Lou & Grey said, "Infinitely LOFT is another exciting way for us to deliver the size-inclusive fashion our client knows and loves, plus great value and convenience. We know she's constantly evolving, both through different stages of her life and in her ever-changing style preferences, and we want to be there with her every step of the way."
Having those mornings where you look in your closet and feel like you have nothing to wear or scrambling to find an outfit for an event will now be fewer and farther apart, as you will have the latest styles on your doorstep whenever you would like. Trust us, you'll want to give this a try, especially with all of the summer activities coming up.
SheFinds receives commissions for purchases made through the links in this post.